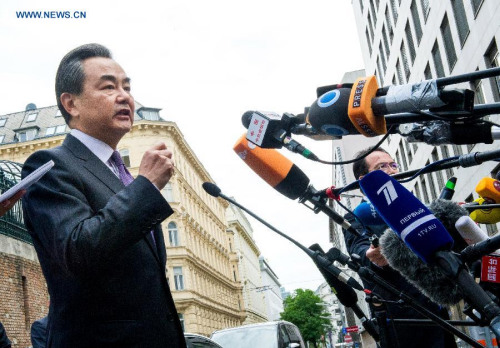 Chinese Foreign Minister Wang Yi speaks to journalists in front of the Palais Coburg hotel, the venue for nuclear talks in Vienna, Austria, July 13, 2015. (Photo: Xinhua/Qian Yi)
Chinese Foreign Minster Wang Yi on Monday called on related parties to end the marathon negotiations on an Iranian nuclear deal, saying conditions are ripe for a good deal and that an agreement could be reached anytime in Vienna.
"China believes no agreement could be perfect,......Conditions are already in place for us to reach a good agreement," Wang told reporters. "We believe that there can not and should not be a further delay of the negotiations."
Wang has met with Iranian Foreign Minister Mohammad Javad Zarif and is meeting with other foreign ministers from the "P5 Plus 1" group, or five permanent members of the UN Security Council -- Britain, China, France, Russia and the United States -- plus Germany, excluding British Foreign Secretary Philip Hammond, who will arrive later in the day.
Zarif told Iranian media that he believed there should not be any extension of the talks but that Tehran can continue working as long as necessary.
After more than two weeks of bargaining in Vienna, Iran and the six major world powers are heading toward a deal to terminate the decade-old standoff over Iran's nuclear program.
The talks have missed the previous deadlines of June 30 and July 7, and may also miss the Monday deadline if some tough issues remain unresolved.
Big progress has been made in capping Iran's nuclear capacity, which indicates there could be a breakthrough in defining Iran's advanced centrifuge research in the future.
Suspicious Western countries seek to prevent Iran from developing nuclear weapons. In exchange, they are expected to lift the debilitating economic sanctions imposed on Iran.
Talks for an Iranian nuclear deal began in 2013, following the election of Hassan Rouhani as Iran's president, and an interim agreement was reached in November of that year.
The main contentious issues include the implementation of the international community's supervision over Iran's nuclear program and the pace of sanctions relief.
Top Iranian officials have also said defense capabilities and the country's missile program would not be included in the talks.
However, the West has recently raised the issue of Iran's missiles as a sticky point in the nuclear talks. Tehran reiterated its stance, saying its missile program is a separate issue.