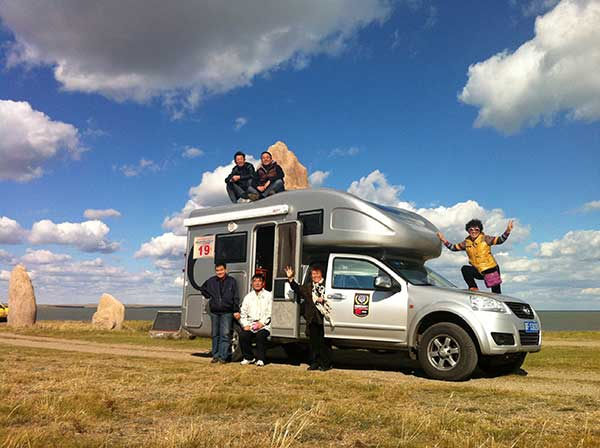 Yang Bei (right, top picture) and her family members spent 136 days touring half the world in a recreational vehicle last year. (Photo provided to China Daily)
More Chinese are taking recreational vehicles to tourist spots both inside and outside the country, and industry insiders say the trend will only grow.
Yang Bei took her family touring half the world last June in a recreational vehicle.
They spent 136 days traveling from Beijing across Mongolia, Russia, Finland, Germany, the Netherlands, Belgium, France and Spain to Portugal and then doubled back.
"Traveling in a camper allowed us to fully take in views and experience different folk customs along the way," Yang says.
Throughout the trip, Yang's family cooked and bathed inside their camper.
"During the trip, the vehicle felt like home to us and saved us money that we could use to buy a new car," she says.
As an alternative to traditional touring, traveling in recreational vehicles has gained ground among Chinese.
"We've seen great momentum in the development of China's recreational vehicle industry, although it has just started," says Ye Shengji, deputy secretary-general of China Association of Automotive Manufacturers, an industry body.
To date, China has around 15,000 recreational vehicles and the figure will likely reach 500,000 in the next five years, Ye says.
Roughly 61 percent of 3.6 billion trips made by Chinese tourists last year have been self-drive trips, says Liu Hanqi, secretary-general of the China Tourism Automobile and Cruise Association.
"An increasing number of self-drive travelers have chosen recreational vehicles," he adds.
Recreational vehicle clubs have been established in many parts of China and travel agencies have also developed routes for this model, Liu explains.
"The industry will surely have a bright future, and we need to cultivate this new leisure and camping culture," Liu says.
The State Council, China's cabinet, has affirmed its support to recreational vehicle and camping development in the country, and a total of 18.5 billion yuan ($3 billion) has already been invested in the sector. The number of campsites is expected to see a nationwide expansion in the next couple of years, he says.
The national standards on caravan camping site construction were unveiled at the All in Caravaning 2015, an expo that brought together caravan and component manufacturers and service providers worldwide in Beijing from June 26-28.