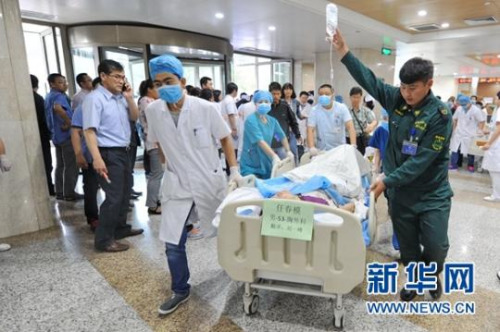 An injured passenger is transferred to No. 1 Hospital of Jilin University in Changchun, capital of northeast China's Jilin Province, July 2, 2015. (Photo: Xinhua/Zhang Nan)
The seventeen injured passengers from a northeast China bus crash, 16 of whom are from the Republic of Korea (ROK), have been transferred to a larger hospital with better facilities.
A bus, carrying 26 ROK tourists, one Chinese driver and one Chinese tour guide, fell off a bridge on Wednesday afternoon in northeast China's Jilin Province. Eleven people, including 10 ROK passengers and the driver, were killed.
The 17 injured were taken to a hospital in Ji'an City.
On Thursday morning, the injured were transferred to The First Hospital of Jilin University in the provincial capital of Changchun.
Wang Haifeng, vice head of the hospital, said, one 36-year-old passenger is in a life-threatening condition. Of the other 16, eight have serious injuries and the others are slightly injured and will be able to leave hospital in about a week.
Eighteen students majoring in Korean language from the Changchun-based Jilin Huaqiao University of Foreign Languages were sent to the hospital to work as translators.
Relatives of the injured have begun to arrive at the hospital.
The bus, owned by Xin Tour Agency, was heading for Dandong from Yanji City in Jilin. The cause of the accident is under investigation.