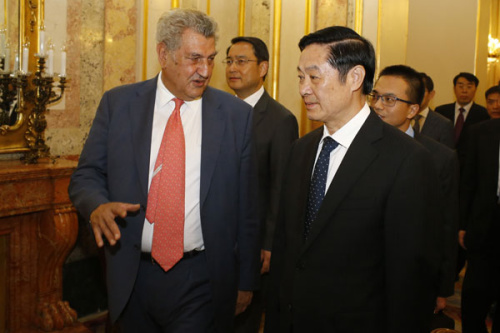 Liu Qibao (front right), head of publicity for the CPC Central Committee, meets with Spain's parliamentary speaker Jesus Posada (front left).(Photo/Xinhua)
China is looking to enhance bilateral cultural exchanges and media cooperation with Spain after agreeing a 10-year comprehensive strategic partnership, a senior Chinese official said on Tuesday.
Liu Qibao, director of publicity for the Communist Party of China Central Committee, visited Spain from June 28 to 30 on the invite of the People's Party (Partido Popular) of Spain.
He said Sino-Spanish cooperation since the establishment of diplomatic relations had not only helped people in the two counties know each other better, but also taken bilateral relations to a higher level.
Jesus Posada, Spain's parliamentary speaker, also expressed his satisfaction with the development of Sino-Spanish relations during his meeting with Liu and reiterated his nation's willingness to deepen the cultural and educational exchanges and take part in the Belt and Road Initiative.
The China-proposed Belt and Road Initiative is focused on transport infrastructure projects to create a Silk Road Economic Belt and 21st Century Maritime Silk Road between Asia and Europe.
Senior officials with the People's Party and the Socialist Party of Spain both agreed to maintain close relations with the CPC.
During his visit, Liu visited various Sino-Spanish cultural and media exchange programs, such as the Chinese Cultural Center in Madrid. He said he hopes the center can help spread Chinese culture and introduce modern China to the world.
He also visited telecommunications companies and met with Spanish publishers and media representatives to discuss Chinese literary works as well as cooperation projects between the two countries.