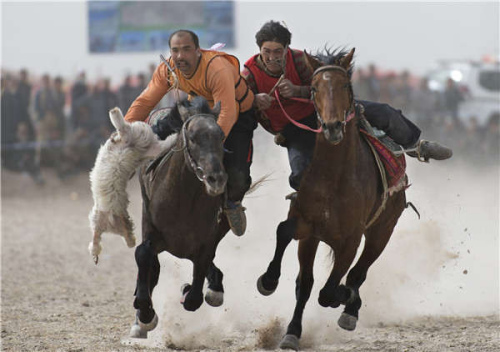 Traditional activities, such as the goat-snatching competition, remain an important part of local life. (Photo provided to China Daily)
China's westernmost region borders eight nations. The tourism bureau plans to increase cooperation with such neighboring countries as Kazakhstan, Kyrgyzstan and Mongolia.
This would enable visitors from, or traveling through, Xinjiang to more easily extend their trips through belt countries.
Guests at the China-Kazakhstan international border cooperation center's namesake countries from Xinjiang's border city of Horgos can enter the center, built half in China and half in Kazakhstan, with just their national IDs. Chinese and Kazaks previously had to apply for permits from their hometowns' border police.
While citizens of the two countries can enter the transnational free-trade center, which officially opened in 2012, without visas, others may need passports.
Visitor volumes soared after the policy was introduced.
Besides shopping and trading goods, many guests snap selfies while standing on either side of-or, better yet, straddling-the blue line beneath a gateway that marks the border.
The Chinese side is a hive of shipping containers and dealers adding to, and subtracting from, heaps of wholesale goods in the shadows of modern multistory buildings.
It's trade at about its rawest.
Kazakhstan's side is a humbler huddle of tents, largely yurts, vending snacks, beverages and handicrafts from the country to Chinese tourists.
For now.
It aspires to optimize upon the growing inflow of Chinese.
Tourism's slowdown was the main contributor to Xinjiang's failure to reach its 2014 GDP growth target of 11 percent, the regional development and reform committee says. But it still reached 10 percent, exceeding the 7.4 percent national average, it says.
Tourism is expected to enhance employment and incomes. The regional government believes employment is integral to stability.
The labor-intensive sector, which has a low market-entry threshold, is generating many jobs for locals, the region's tourism bureau says.
Xinjiang's 1,180 home inns provide about 12,000 jobs for farmers and herdsmen, the government reports.
It seems recent events in the autonomous region have shown, yes, terrorism can diminish tourism.
But tourism can diminish terrorism.
The industry brings jobs that bring economic stability that, in turn, brings more tourism.
The complete circuit-positively charged-helps short out extremism.
In Xinjiang, tourism's current electromagnetism is flowing toward the positive rather than the negative.
Fun is overcoming fear.