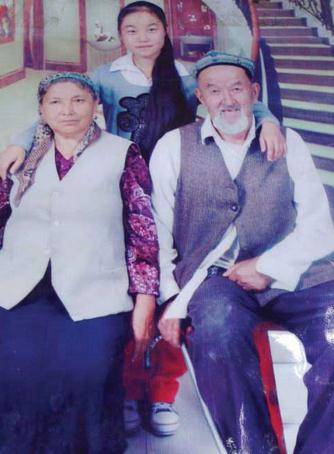 Mairamhan(L) and the girl (M) of Han ethnicity. (Photo/xinjiangnet.com.cn)
The story of an ethnic Han girl and a Uygur family shows that love can transcend ethnicity.
On a cold winter day in 1999, Kebir Tumer walked on the street in Shaya county, Aksu, Xinjiang Uygur autonomous region as usual. But a baby's cry interrupted his steps.
Walking closer to a dustbin where the cry came from, the Uygur man found a newborn baby girl in a cardboard box. After no one turned up to claim her for half an hour, Kebir took the girl home so she wouldn't catch a cold.
The arrival of the baby delighted the family, but the couple faced a thorny problem – with only the husband working to support the family of seven, life would be hard if they had another mouth to feed.
Kebir suggested sending the baby to a welfare house, but his wife Mairamhan was determined to keep her at home, and the couple gave her a Uygur name, Belikiz•Kebir.
"Belikiz is a little angel. She is such a nice girl that she never said or did anything that made us angry for the past 16 years," said Mairamhan.
"Although we are hard-up, we try to give the girl the best life we can," added the woman.
And when Kebir Tumer was bedridden for years due to arterial sclerosis, the girl often kept company with her foster father and comforted him.
To ensure the girl a good life in the future, the couple had made a will to leave their property to the girl. And their four sons are supportive of the decision.
"Since my brothers and I have got married, we fully understand and are proud of the decision made by our parents," said Ahmat Kebir, one of the sons.
Now that Mairamhan's husband has passed away and the meager income of the family not enough to support the girl for higher education, the Uygur woman is looking for the girl's biological parents or foster parents who would like to adopt the girl to give her a better life.
"She will know (her identity) sooner or later... I am getting old and I am worried that if I die someday, no one will take care of her," said Mairamhan.
The Uygur woman said although she does not know why the birth parents of Belikiz abandoned her, she believe they must have their difficulties. She added, she would like to see the girl reunite with her birth parents.