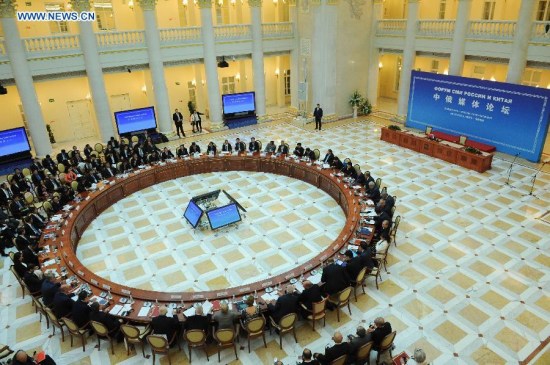 Photo taken on June 25, 2015 shows a scene of the China-Russia media forum held in St. Petersburg, Russia. (Photo: Xinhua/Dai Tianfang)
Liu Qibao, head of the Publicity Department of the Communist Party of China (CPC) Central Committee, met with a senior Russian official Thursday on media cooperation between China and Russia.
In a meeting with Alexi Gromov, first deputy head of the Presidential Administration of Russia, Liu said his department is willing to work with the Presidential Administration of Russia on the integrated development of traditional and new media.
The two sides should look to the future and aspire to innovate bilateral media cooperation based on the integration and development of new media and traditional media, so that they can have larger say in the world's mass media, said Liu, who is also a member of the Political Bureau of the CPC Central Committee and of the Secretariat of the CPC Central Committee.
As Liu was in Russia to attend a China-Russia media forum, he said the forum is a great chance for the two countries to consolidate communication and cooperation in media and other social fields.
Noting that Chinese President Xi Jinping, during his visit to Russia in May, decided with his Russian counterpart, Vladimir Putin, the future path of bilateral relations, Liu expressed the hope that his visit and participation in the media forum could help further implement the consensus reached in the fields of media cooperation and people-to-people exchanges.
For his part, Gromov hailed the unprecedented high-level relationship between Russia and China.
Frequent meetings of the two countries' leaders helped expand the fields of cooperation, Gromov said, adding that he believes the Russia-China media forum will usher in a new chapter of the two countries' media cooperation.