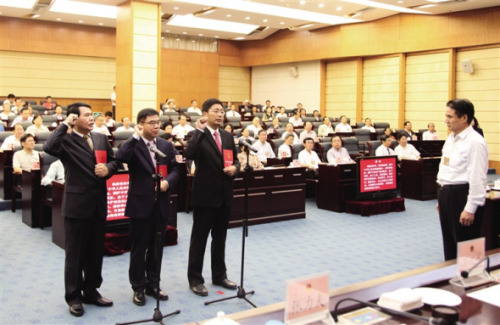 Three newly appointed officials take a solemn oath to China's Constitution in Hainan on November 26, 2014. (Photo: Hainan Daily/Li Chao)
Officials will pledge their allegiance to the Constitution when assuming office if a draft legal document submitted to the top legislature for deliberation on Wednesday becomes law.
All officials elected or appointed by people's congresses and their standing committees at both the national and local level, as well as State officials appointed by people's governments, courts and procuratorates at all levels, must in the future take a public oath of allegiance to the Constitution when assuming office, the draft says.
Han Xiaowu, deputy secretary-general of the Standing Committee of the National People's Congress, said the Constitution is the basic law of the country and has supreme legal status.
Authorities and State officials must be aware of the Constitution, observe its principles, uphold its spirit and perform their constitutional obligations, he added.
"Establishing a system of pledging allegiance to the Constitution through legislation is of profound significance for ensuring loyalty to the Constitution in State officials," he said.