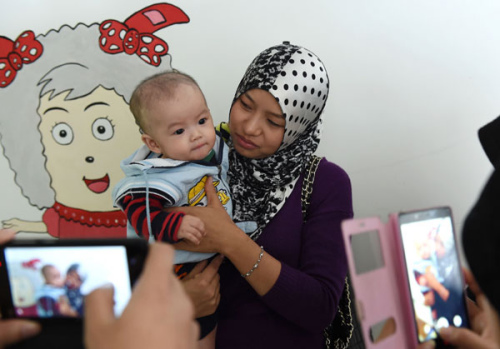 A volunteer cares for a baby who was rescued from child traffickers in November. The child was taken to this welfare center in Kaiyuan, Yunnan province. (Photo/Xinhua)
More deliberation as top legislature starts bi-monthly session
Human traffickers are likely to face tougher penalties, and the list of punishable terrorist activities is set to be expanded, under proposed revisions to the Criminal Law that have been advanced to a second reading by legislators.
The ninth draft amendment to the Criminal Law was submitted to the Standing Committee of the National People's Congress on Wednesday for further deliberation at the legislature's bimonthly session.
The revision to the provision concerning child trafficking aims to increase penalties for those who buy children.
Under the modified provision, anyone buying a child would not be able to claim immunity from punishment, but buyers would receive a less severe penalty if they did not abuse the child or attempt to hinder rescue efforts.
The amendment represents a big shift from the current situation. Currently, those who buy children are likely to be exempt from all criminal liability.
Police rescued more than 13,000 abducted children last year. Nearly an equal number of people involved in human trafficking were punished from 2010 to last year, according to the Supreme People's Court, and more than half received sentences ranging from at least five years in prison to death.
More than a dozen deputies to the National People's Congress supported the proposal to increase penalties for buyers to curb the demand for trafficked children. The Ministry of Public Security suggested removing from the Criminal Law the item granting buyers an exemption.
The draft amendment contains an expanded list of activities defined as terrorism, a response to nationwide calls for action to combat the problem.
The draft says those financing training programs for terrorists should face more than five years in prison in addition to financial penalties and the confiscation of property.
Under the current law, these punishments are applied only to those funding terrorist organizations or who perform terrorist activities.
Those recruiting and transporting personnel for terrorist organizations, terrorist activities and training programs will face more than five years in prison in serious cases if the draft becomes law.
Those who prepare equipment or materials for terrorists or who organize or take part in terrorist training programs should face more than five years in prison in serious cases, the amendment says.
The same punishment should be given to nationals who contact overseas terrorist organizations or personnel and to those who plan acts of terror.
Additionally, the draft says driving under the influence of drugs should become a punishable offense, with those found guilty having their licenses revoked.
Under the current law, a driver who uses drugs is immune from criminal punishment if he or she does not cause an accident.
The draft amendment was published in November, and 51,000 suggestions concerning its provisions were received from 15,000 individuals as of Dec 3.