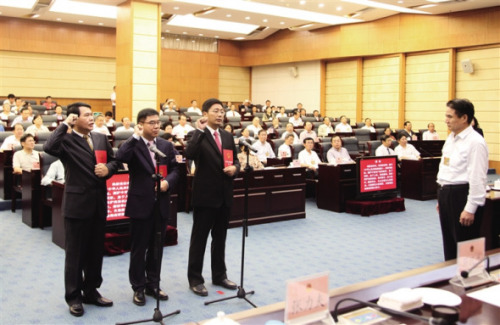 Three newly appointed officials take a solemn oath to China's Constitution in Hainan on November 26, 2014. (Photo: Hainan Daily/Li Chao)
Chinese officials, will pledge allegiance to the Constitution when assuming office, according to a draft legal document submitted to China's top legislature Wednesday for deliberation.
All officials elected or appointed by people's congresses and their standing committees at both national and local levels, as well as state functionaries appointed by people's governments, courts and procuratorates at all levels should, in the future, take a public oath of allegiance to the Constitution while assuming office, said the draft.
While explaining the draft, Han Xiaowu, deputy secretary-general of the 12th NPC Standing Committee said on Wednesday that as the Constitution is the basic law of the country with supreme legal status, authorities, forces, state functionaries must have constitutional awareness, observe constitutional principles, uphold the constitutional spirit and perform their constitutional obligations.
"Establishing a system of pledging allegiance to the Constitution through legislation is of profound significance to ensuring loyalty to the Constitution in state functionaries, by observing and safeguarding the Constitution," he said.
According to the draft, after they are elected or appointed, state personnel must swear the oath. This includes the president, vice president; chairman, vice chairpersons, secretary-general, all members of NPC Standing Committee; premier, vice premiers, state councilors, ministers, the governor of the People's Bank of China, auditor general of the National Audit Office; chairman, vice chairmen and members of the Central Military Commission (CMC) of the People's Republic of China; heads of the Supreme People's Court and the Supreme People's Procuratorate.
When state functionaries read the pledge, the right hand should be raised and formed into a fist, and the national flag and emblem should be hung in the hall where the ceremony is held.
The oath reads: "I pledge to uphold the Constitution of the PRC, safeguard the Constitution authority, perform obligations given by the Constitution, be committed and honest when performing duties, be allegiant to the country and people, accept supervision and work hard for the great cause of the socialism with Chinese characteristics," according to the draft.
Of the 193 countries that have written Constitutions, 177 have stipulated rules on pledging allegiance to the Constitution by state functionaries.
The fourth plenary session of the 18th Communist Party of China Central Committee decided to establish a system of pledging allegiance to the Constitution in October 2014.
The current Constitution was adopted on Dec. 4, 1982, based on the 1954 version. Dec. 4 is China's Constitution Day, which aims to increase awareness of the Constitution.
The 15th session of the 12th National People's Congress (NPC) Standing Committee, China's top legislature, began Wednesday afternoon.