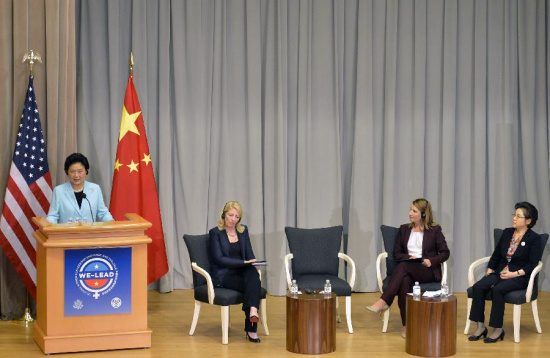 Chinese Vice Premier Liu Yandong (1st L) speaks at the seventh China-U.S. Women's Leadership Exchange and Dialogue in Washington D.C., the United States, on June 23, 2015. (Photo: Xinhua/Wang Lei)
Chinese Vice Premier Liu Yandong on Tuesday called for stepping up exchanges between women in China and the United States.
Liu made the remark at the closing ceremony of the Seventh China-U.S. Women's Leadership Exchange and Dialogue (WLED), part of the ongoing Sixth China-U.S. High-Level Consultation on People-to-People Exchange (CPE), held from Tuesday to Wednesday in the U.S. capital.
The vice premier lauded the WLED's role in promoting gender equality and women's development in both nations. As a key part of the CPE, the WLED has helped women from the two sides achieve fruitful results in a wide range of areas such as career choices, science and technology, education and health, through exchange and dialogue.
The Beijing Declaration and Platform for Action, reached at the Fourth World Conference on Women held in Beijing 20 years ago, still serves as a guiding document for global women development and progress, she added.
Since then the Chinese government has honored its commitments on women's cause and made great progress in the areas of gender equality, legal protection of women's rights and women's participation in economy, Liu said.
During China's pursuit of a well-off society by 2020, the Chinese government will further promote gender equality, encourage hundreds of millions of women to take a more powerful role in the cause of national rejuvenation, said the vice premier.
Liu called for further exerting the WLED and the CPE's role as platforms for exchange and cooperation between women in both nations, encouraging them to launch businesses, attract investment, improve competitive ability and share leadership experience among each other.
In addition, she said, the two nations should strengthen cooperation and deepen understanding while work together to promote global women's development at various global institutions including the United Nations.
Enhanced exchanges between women of the two nations will further foster the people-to-people exchanges between the two sides and contribute to the task of building a new type of major-country relationship between the two countries, she added.