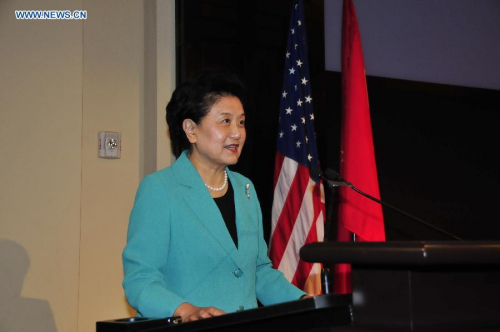 Chinese Vice Premier Liu Yandong delivers a speech at the second China-U.S. University Presidents Roundtable at Rice University in Houston, the United States, June 22, 2015. (Photo: Xinhua/Zhang Yongxing)
Chinese Vice Premier Liu Yandong on Monday called upon universities in her country and the United States to play a bigger role in promoting bilateral relations.
"Building a new type of major-country relations between China and the United States serves the common interests of both peoples," Liu said at the second China-U.S. University Presidents Roundtable, which was held here at Rice University.
"I believe that universities are pioneers for people-to-people exchanges between our two countries, and also the driving force for China-U.S. relations," she added.
Referring to the "increasingly important role" universities play in boosting exchanges and enhancing strategic mutual trust between countries, she offered a four-point proposal for the participating presidents and chancellors.
"First, I hope universities in both countries will strengthen cooperation on personal development, scientific research and social services," Liu said, noting that China has the largest number of scientists, while the United States takes the lead in scientific innovation.
"Our interaction in talent development, resource and innovation will surely boost the development of higher education," she said.
Second, Liu said she hopes universities will make contributions to deepening mutual understanding between the two peoples.
"Between people and countries, it is natural to have differences and disagreements. This requires Chinese and U.S. universities to fully play the role as think tanks and recognize the defining features and overriding trends in U.S.-China relations," Liu said.
She urged the universities to raise more constructive suggestions and encourage people from all walks of life in both countries to have a balanced view of each other so as to avoid detours in bilateral relations.
Third, she said that universities should "enhance the capability of students to engage in cross-cultural communication" by maximizing opportunities for short- and long-term exchanges.
Liu said institutions must nurture in the students the spirit of humanity and the sense that the entire world constitutes a community of shared destiny.
Last but not least, Liu expressed the hope that the two countries can serve as a model of cooperation for the world.
Although there are twists and turns in bilateral ties over the past years, she stressed, people-to-people exchanges between the two countries have never stopped.
Liu made it clear that differences in culture and political systems should not be allowed to affect cooperation between the two countries.
"As long as we open up our hearts to each other, respect each other and seek common ground while putting aside differences, we can bridge any gap and usher in a more promising future for a new model of major-country relationship," she said.
"This will not only benefit the two peoples, but also contribute to the peace and prosperity of the world," added the vice premier.
Liu, who also visited Pittsburgh before Houston, left later Monday for Washington to co-chair the sixth High-Level Consultation on People-to-People Exchange (CPE) with U.S. Secretary of State John Kerry.
Launched in 2009, the CPE has offered a broader platform for friendly exchanges between the two peoples.