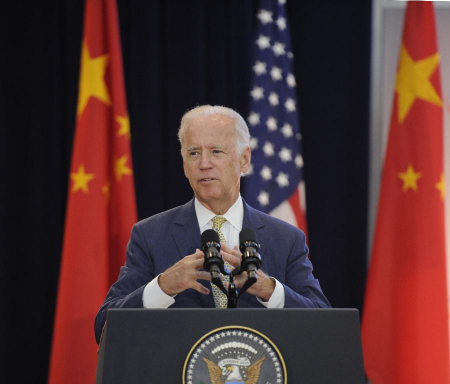 U.S. Vice President Joe Biden speaks at the opening ceremony of the seventh China-U.S. Strategic and Economic Dialogue (S&ED) and the sixth China-U.S. High-Level Consultation on People-to-People Exchange (CPE) in Washington D.C., the United States, June 23, 2015. (Photo: Xinhua/Bao Dandan)
Kicking off the annual high- level talks in Washington Tuesday, China and the United States reaffirmed their commitment to continue close cooperation on tackling varied issues facing today's world, while promising to manage their differences in a responsible way for the benefits of both sides and the world as a whole.
U.S. Vice President Joe Biden opened the seventh China-U.S. Strategic and Economic Dialogue (S&ED) and the sixth China-U.S. High-Level Consultation on People-to-People Exchange (CPE) at a ceremony held Tuesday morning at the Sate Department.
The S&ED is co-chaired by Chinese Vice Premier Wang Yang and State Councilor Yang Jiechi, special representatives of Chinese President Xi Jinping, and U.S. Secretary of State John Kerry and Treasury Secretary Jacob Lew, on behalf of U.S. President Barack Obama. The CPE is co-chaired by Chinese Vice Premier Liu Yandong, a special representative of Xi, and Kerry.
In his opening speech, Biden saluted China for being a responsible stakeholder in many ways in the past years as it has cooperated with the U.S. in dealing with a series of regional and global challenges.
He specifically commended "some important steps" taken by China to address climate change, conduct market-oriented economic reforms, contribute to stronger and more sustainable growth in global economy, combat radical terrorism, fight Ebola epidemic, join international peacekeeping operations, and help bring lasting peace to Afghanistan and Sudan.
"These are welcome actions that impact in a very positive way the growth and security of China, but also the region and the world," he said.
According to Biden, the U.S., instead of fearing China's rise, wants to see the Asian giant's rise as it could be a significant asset for the region and the whole world.
This year's S&ED will cover a wide range of bilateral, regional and global issues of common concern, including climate change, interaction in the Asia-Pacific region, managing differences and sensitive situations, the United Nations and multilateral affairs, science and innovation, green ports and ships, as well as fighting illegal trade in wildlife.
During the economic dialogue, officials will have in-depth discussions on macro-economic policy and restructuring, trade and investment promotion, and financial market stabilization and reform, including the exchange of "negative lists" on a mutual investment treaty, which outline sectors that are closed to foreign investment.
The CPE talks will focus on cooperation in education, science and technology, culture, health, sports, women and youth. Before heading to Washington on Monday, Liu had already visited Pittsburgh, Pennsylvania and Houston, Texas for a series of meetings and interaction with U.S. officials, athletes, students, college deans and Chinese students in the United States.
CALLING FOR HEALTHY COMPETITION
This year's S&ED and the CPE, which come at a time when there are a few hiccups in bilateral relations due to the rift over the South China Sea and cyber security, have attracted a lot of attention worldwide as all eyes are on how the two great powers will manage their differences.