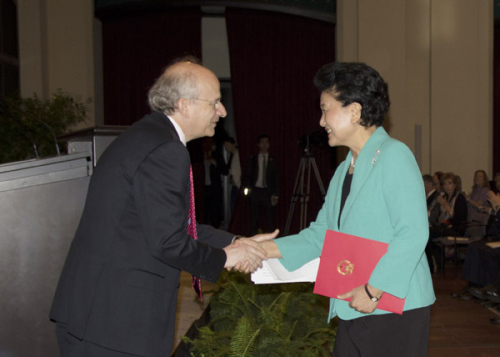 Rice University President David Leebron (left) welcomes Chinese Vice-Premier Liu Yandong to make the keynote address to the US-China University Presidents Roundtable at Rice University in Houston on Monday. (China Daily/May Zhou)
China's Vice-Premier Liu Yandong on Monday challenged university presidents from both China and the United States to deepen and broaden cooperation in higher education.
The presidents and chancellors of more than 50 major U.S. and Chinese universities met at Rice University in Houston for the U.S.-China University Presidents Roundtable.
They discussed global education, research collaboration and cultural exchange. The topics addressed during the closed roundtable sessions included the value of a liberal arts education, new frontiers for research collaboration and ways to improve higher education cooperation between the U.S. and China.
Liu praised the university presidents and chancellors coming together to share their experiences and discuss cooperation, calling it "an important component of people-to-people exchange between the U.S. and China".
"Universities have been the pioneer in people-to-people exchange," Liu said. "In the 1970s, it was exactly due to the suggestions to President Nixon from visionary scholars, that the U.S. government adjusted their policy toward China, (which) played an important role in opening the door for the U.S. and China diplomacy."
The relationship started the largest overseas study trend in the history of China, Liu said. She detailed the achievement with some numbers: 3.5 million Chinese students have studied abroad, of whom 1.46 million went to the U.S..
Now, there are 1,116 cooperating institutions and programs between the U.S. and China, and one third of those were established in the last three years.
Liu said that there are more than 7,000 universities in China and the U.S. with more than 50 million students. She then posed three challenges to the present university presidents:
"First, I hope that universities in both nations will deepen the cooperation and exchanges in nurturing talents, science research and social service. Second, I hope that you will provide a more powerful intellectual foundation to realize win-win cooperation between the two nations. Thirdly, I hope you would find ways to improve young people's cross-culture communication capabilities."
In response to Liu's challenge, New York University President John Sexton said: "We surely appreciate your effort to encourage us to try new ways, not just do more of the old."
Sexton said that NYU Shanghai is flowering. He taught at NYU Shanghai the past semester and said, "I can tell you that this program is working." Sexton said that at the school, students from China and other parts of the world grow together and build a relationship that stays with them.
Tsinghua University President Qiu Yong said that his school has benefited greatly from the cooperation between the U.S. and China, and now Tsinghua is pushing for a tenure track system similar to that in the U.S..
Qiu also mentioned the Global Innovation Exchange (GIX), a tech graduate school created by Tsinghua, the University of Washington and Microsoft as a primary example of how far the cooperation has been advanced between the two nations, calling it the trend for the future.
GIX marks the first time that a Chinese research institution has established a physical location in the U.S., a reciprocal example of NYU Shanghai.
Rice President David Leebron welcomed Liu's challenge, calling it a "wonderful framework. Nurturing a spirit of humanity among our students, developing a shared sense of destiny, leading us to understand each other better, to see each other's problems not as the problems of others but our own problems – these seem to be the framework of ideas you put forward. The inspiration you provided has reaffirmed the role of our universities," Leebron said.
In a prior news release, Leebron said, "We have significantly expanded Rice's international outreach to China as part of our Vision for the Second Century, and it is indeed an honor to host the U.S.-China University Presidents Roundtable and the highest-ranking Chinese official to ever visit our campus."
Lin Jianhua, president of Peking University, said that due to the rapid development of technology, the world is becoming closer and smaller; the cooperation in the two nations has shifted from personnel exchange to institutional cooperation, and often China and U.S. are facing the same challenges now.
Zhang Rong, president of Shandong University, agreed with the vice-premier on her proposed larger role that universities should play within the People to People Exchange framework.
"High-level academic institutions in China should set a worldly vision on scholarly exchanges, and students and faculty collaborations with their U.S. counterparts," Zhang said. "The pursuit for truth, shouldering social responsibility and preparing young leaders for years to come should be the key tasks of any universities in the world."