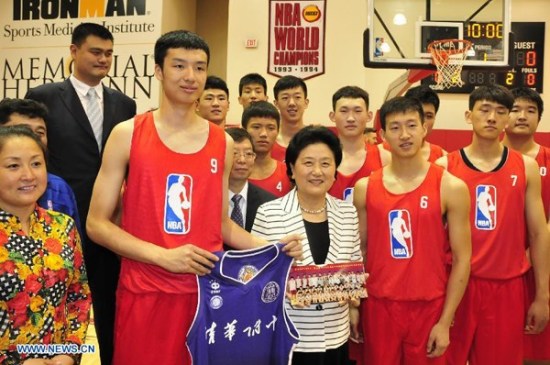 Chinese Vice Premier Liu Yandong (C) poses for group photos with Chinese student athletes from Tsinghua High School, during a visit to NBA basketball team Houston Rockets' home field Toyota Center in Houston, the United States, on June 21, 2015. (Photo: Xinhua/Zhang Yongxing)
China and the United States, though geographically apart and different in political systems, have witnessed flourishing people-to-people exchanges in the past decades, Chinese Vice Premier Liu Yandong has said.
In a USA Today article, Liu reviewed the long history of friendly exchanges between the United States and China, which started more than 200 years ago when a U.S. commercial vessel named Empress of China visited Guangzhou.
The Chinese leader also mentioned "Ping Pong Diplomacy," noting that table tennis plays of the two countries have helped pave the way for the establishment of official relations between the People's Republic and the United States.
Although there are twists and turns in the bilateral ties over the years, Liu stressed that people-to-people exchanges between China and the United States have never stopped.
The two governments and peoples have worked together tackling global challenges such as climate change, natural disasters and terrorism in particular, Liu said.
She also mentioned joint efforts of the two countries in the fight against Ebola in Africa last year.
Liu noted the annual high-level Consultation on People-to-People Exchange (CPE), which was launched in 2009, has offered a broader platform for friendly exchanges between the two peoples.
Nearly 300 programs have been launched under the CPE in the past six years, in education, science and technology, culture, sports, women, youth and region-to-region cooperation, Liu said, adding that these programs have been fruitful.
In the article published Monday, Liu also cited facts and figures to testify the rapid growth of people-to-people exchanges between the two countries. A total of 4.3 million trips were made by Chinese and American peoples across the Pacific Ocean last year. During the past six years, almost half a million Chinese young people have studied in the United States, while over 100,000 American students have studied in China.
"Although China and the United States differ in terms of culture and political systems, as long as we open up our hearts to each other, respect each other and seek common ground while putting aside differences, we can bridge any gap and usher in a more promising future for a new model of major-county relationship. This will not only benefit the two peoples, but also contribute to the peace and prosperity of the world," wrote Liu.
Liu will co-chair the sixth CPE on Tuesday with U.S. Secretary of State John Kerry in Washington. She arrived in the United States on Thursday, and visited Pittsburgh and Houston.