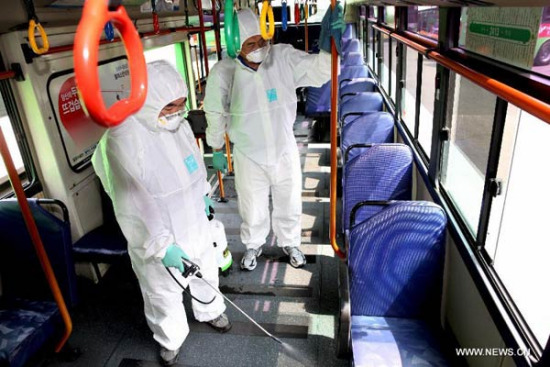 Health workers disinfect a bus in Seoul, South Korea, on June 15, 2015. (Photo/Xinhua)
A group of U.S. experts on infectious diseases are visiting South Korea, which is suffering from the outbreak of the Middle East Respiratory Syndrome (MERS), to technically cooperate with South Korean experts in containing the spread, the health ministry said Monday.
S. Korea's MERS infections rise to 175 with 3 more cases
The group was composed of seven experts on contagious diseases and epidemiological study of the U.S. Centers for Disease Control and Prevention (CDC), according to the Ministry of Health and Welfare.
The group was headed by Dr. Susan Gerber, chief of the division of viral diseases at the CDC's National Center for Immunization and Respiratory Diseases.
The U.S. experts plan to conduct various activities, including discussion, laboratory analysis and on-site inspection, for about 10 days from Monday, together with experts from the S. Korean CDC and private experts here.
The joint activity came as part of efforts to conduct a variety of studies about the MERS outbreak, recommended by the WHO-South Korea joint mission that had investigated into the MERS spread here for five days from June 9.
The ministry said the joint activity was mainly aimed at technical cooperation, anticipating it could contribute to an earlier end of the MERS spread in South Korea.
The case of MERS infections in South Korea increased to 172 Monday as three more cases were added. The index case was identified on May 20.
Two more deaths were reported, bringing the death toll to 27 and the fatality rate to 15.7 percent.