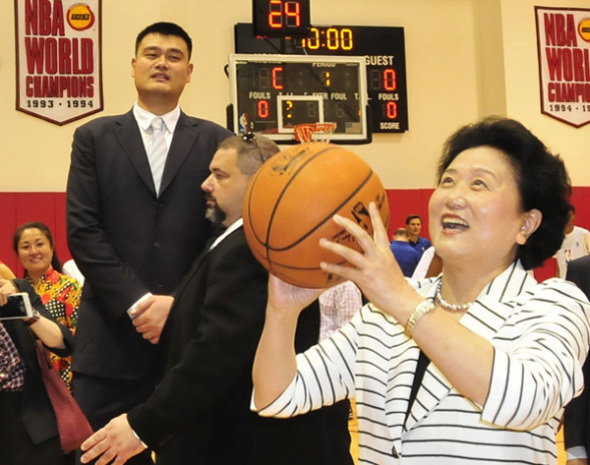 Vice-Premier Liu Yandong shoots for the hoop atNBAbasketball team Houston Rockets' home court Toyota Center watched by former Rockets starYao Ming. A group of Chinese student athletes from Tsinghua High School are working on a basketball training program with the Rockets. Liu will attend the 7th China-US Strategic and Economic Dialogue in Washington on Tuesday. (Photo: Xinhua/Zhang Yongxing)
The new round of high-level China-U.S. talks that are scheduled to start here on Tuesday will explore ways on how to make the planned first state visit of Chinese President Xi Jinping to the U.S. a success, a U.S. China expert told Xinhua in an interview.
"This session, like last year's, will explore opportunities that can be brought to fruition during the upcoming meetings of the two presidents, this time in September in Washington," said Douglas Paal, vice president for studies at the Washington-based think tank Carnegie Endowment for International Peace.
Paal was referring to the last round of China-U.S. Strategic and Economic Dialogue (SE&D) and High-level Consultation on People- to-People Exchange (CPE) held in Beijing last July, which helped pave the way for U.S. President Barack Obama's visit to China last November.
Like last year, this year's S&ED, the seventh round, will be co- chaired by Chinese Vice Premier Wang Yang and State Councilor Yang Jiechi, who will act as special representatives of President Xi, with U.S. Secretary of State John Kerry and Treasury Secretary Jacob Lew representing President Obama.
This year's CPE, the sixth round, will still be co-hosted by Chinese Vice Premier Liu Yandong and Kerry.
The two-day talks, held at a time when the bilateral ties are strained over China's land reclamation in the South China Sea and the U.S. allegation of China's hacking of U.S. federal computer networks, are expected to ease the tensions to create a positive atmosphere for President Xi's visit to the U.S. in fall.
"I think both Washington and Beijing officials are focused on making their leaders' summit a success, and are sanding down the rough edges of both rhetoric and behavior," Paal said.
He cited the relatively tuned-down statements on the South China Sea dispute made by U.S. Defense Secretary Ashton Carter at a security forum held in Singapore late May, the June 8-12 visit to the U.S. by Fan Changlong, vice chairman of China's Central Military Commission, and China's recent announcement of an end to the land reclamation project on some of its islands in the South China Sea.
Toning down the China-U.S. frictions will likely be "the most important outcome" of this year's talks, as the U.S. drifts into its election cycle and experiences the usual tendency to accentuate rhetorical posturing, Paal said.
"Chinese officials have an interest in going about their work with less criticism from the U.S., at a time when the consensus in the U.S. on China is fraying. They should not want to be a major subject of American political debate then," he said.
As the U.S. is entering a new circle of election politics with the 2016 presidential race approaching, China-bashing is expected to be used by some candidates as a tool to achieve political gains.
Paal said he did not expect major breakthroughs at this year's talks in addressing the dispute on cyber security, but expected progress in the talks on preparing a Memorandum of Understanding on military aircraft's encounters in time for the September summit.
The S&ED and the CPE are among about 90 multi-level dialogue mechanisms created by the two countries, which are aimed at promoting understanding, boosting trust and enhancing cooperation.
They have played a crucial role in maintaining the stability of the China-U.S. relationship, and preventing it from going off track by occasional setbacks.
"These forums provide focal points to address issues that do not get resolved in the normal course of business, in part by assembling local and national level authorities around a common table," Paal said.
Asked for his advice on how to rid the China-U.S. ties of the circle of ups and downs, Paal said that both sides "need to remind themselves to articulate their positive agendas to their publics and each other even as they address the problems that arise."
Otherwise, he argued, the public narratives are dominated by bad news and disagreements and by reporters' questions, accomplishments over time are ignored.
Though some experts said they did not expect that the new round of talks can produce real breakthroughs, Paal insisted that they are always needed because China and the U.S. are so interdependent economically and are the indispensable pair to address regional and international problems.