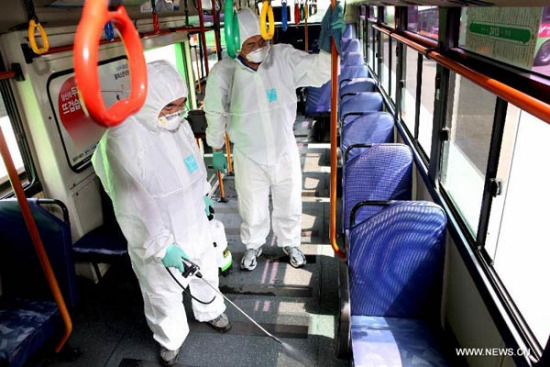 Health workers disinfect a bus in Seoul, South Korea, on June 15, 2015. (Photo/Xinhua)
South Korea on Friday reported one more death from infection with the Middle East Respiratory Syndrome (MERS) and one more contagion, bringing the death toll to 24 and the total contagion cases to 166.
Patient 120 died of the viral disease overnight, raising the fatality rate to 14.5 percent, according to the Ministry of Health and Welfare.
The 75-year-old man, tested positive on June 10, had been treated after being infected from the patient 14 called super spreader as he infected about 80 people, at the Samsung Medical Center in Seoul.
More than 90 percent of the total deaths had suffered from other illnesses or had been of old age categorized as high-risk patients.
One more contagion was added Friday, bringing the combined infection to 166 since the first case was identified on May 20.
The country's MERS spread abated recently as new cases slid from eight on Wednesday to three on Thursday and one on Friday.
Six more patients were discharged from hospitals as they completely recovered after being infected, sending the combined hospital discharge to 30.
Excluding the deaths and hospital discharges, 112 patients are under treatment. Among those treated, 16 patients are in unstable conditions.
The number of those quarantined declined from 6,729 Thursday to 5,930 Friday. Those ordered to stay at home was 5,161, with those isolated at the government-designated hospitals being 769.