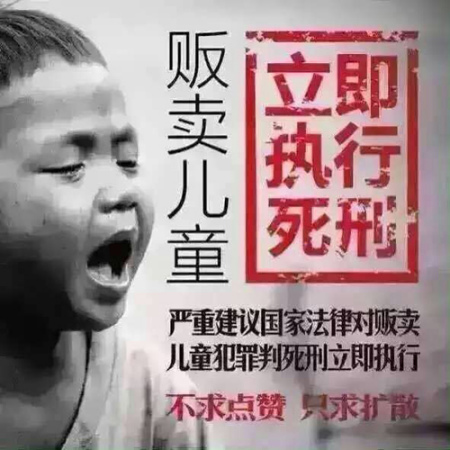 Pictures that call for the "death penalty for all child traffickers and immediate execution " have gone viral on Wechat, a popular social networking site.
The viral call for the death sentence for all child traffickers on Chinese social media has led to legal professors' widespread defense of the existing punishments, although they also admit that greater punishment for buyers may be part of the solution.
Certain public pages on Wechat, a popular social networking site, showing pictures and miserable stories of trafficked children and their families were forwarded widely on Thursday.
In the end, such posts usually blamed the current law for being too lenient on child traffickers, and called to raise the current minimum imprisonment of five years.
As of Thursday night, more than 540,000 people have expressed agreement with a proposal that demands death for all child traffickers, by forwarding it on Wechat.
There were no official statistics about human trafficking in China. The frequent media reports on police raids on child trafficking gangs, and the universal notices for missing children on lamp posts and on the Internet imply that it is prevalent. The rapid spread of the post on social media reflects the fact that it echoes people's long-held concerns.
Facing public pressure, Chinese law professors are voicing their opinions on all online platforms and media they can access, with some suggesting web users not to be taken in by some public pages that are just attracting hits.
Zhang Hui, a lawyer from Guangzhou, said among fundamental principles of law, one is, a violator's punishment should be suited to the crime he or she committed, and another is the presumption of innocence. The uniform punishment certainly violates these rules. They would also deprive the criminal of his right to defend himself.
Qi Xiaoling, a law professor, said prescribing death for every trafficker may lead to more extreme cases. If the trafficker would face a death sentence no matter whether he abducted one child or 100 children, he might go for the latter, which is more lucrative. Besides, the capital punishment will increase the possibility that the trafficker turns to extreme approaches once exposed – such as killing the kidnapped child, to prevent police from finding the evidence of his crime.
Li Xuesong, judge of Qujing Intermediate People's Court, admitted that the current law imposes light punishment on buyers of abducted children. According to the Criminal Law of China: "Whoever buys a child but does not maltreat the child nor obstruct his or her rescue may be exempted from being investigated for criminal responsibility." Li suggested a change to this article that imposes a heavier penalty on buyers of an abducted child.
According to China's criminal law, whoever abducts and traffics a child shall be sentenced to at least five years in prison. Under eight aggravating circumstances, including trafficking more than three persons, sexual abuse, and use of violent means, the trafficker shall be sentenced to more than 10 years, up to life imprisonment. If the circumstances are especially serious, he/she shall be sentenced to death and also to confiscation of property.
In fact, China has kept a heavy punishment for children trafficking. Official figures show that courts across the country handled over 7,700 such cases between 2010 and 2014. Some 13,000 people were punished and over 7,000 of them were given sentences greater than five years in prison.
And the death sentence, which netizens have called for, has never been ruled out.
Lan Shushan, who abducted 34 children aged from 3 to 10 and sold them for over 500,000 yuan (about $81,334) from 1998 to 2008, was sentenced to death earlier this year.
In another case, Ma Shouqing and his accomplices abducted and sold 37 children from 2006 to 2008, with one female infant dying during transportation. He got the same punishment as Lan and was executed.