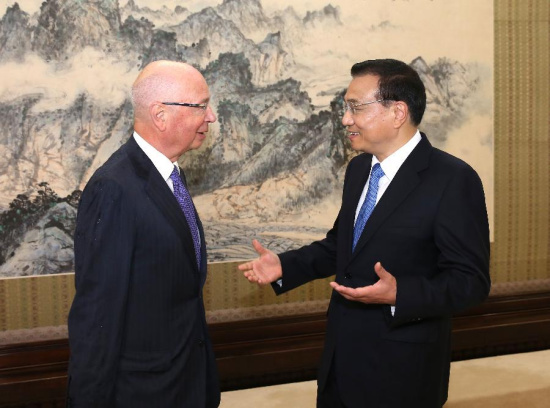 Chinese Premier Li Keqiang (R) meets with Klaus Schwab, founder and executive chairman of the World Economic Forum, in Beijing, capital of China, June 17, 2015. (Photo: Xinhua/Pang Xinglei)
The annual Summer Davos forum will be held in northern China's port city of Dalian in September, Chinese Premier Li Keqiang said in Beijing on Wednesday, pledging to boost innovation and entrepreneurship.
Li made the remarks while meeting with visiting World Economic Forum (WEF) Founder and Executive Chairman Klaus Schwab.
"We are willing to make joint efforts with the WEF to determine a visionary and inclusive subject for the forum," Li told Schwab.
A sub-forum on international capacity cooperation and economic transformation will be held during the summer Davos forum, which would help integrate China's advantages in capacity and equipment manufacturing with developed countries' advanced technology and management experience, said the premier.
"This will meet the developing countries' need to build infrastructure and industrialization, and promote recovery and growth for the global economy," Li said.
Schwab recalled Li's important speech at this year's WEF winter meeting in the Swiss mountain resort of Davos, saying it had helped to boost the international community's confidence for China's development.
The summer Davos forum will focus on innovation, entrepreneurship and creation, which fits the direction of China's economic development, he said.
The WEF values China's important role in global affairs, and hopes to cement cooperation with China, Schwab said.
Li said China is glad to see the WEF's new progress, and expects it to play greater role in boosting understanding and cooperation between China and the world.
In face with deep changes of global economy and downward pressure, the Chinese government strives to stimulate market vitality, and promote mass entrepreneurship and innovation through reforms such as streamlining administration and improving service, Li said.
Since May this year, China's economic data, including those for industry, investment, consumption, import and export, has been stable and continues to recover, he said, adding employment has maintained sound momentum.
"We will continue to transfer development, adjust structure and improve the quality and efficiency of economic development, in order to maintain rapid growth of the Chinese economy," Li said.