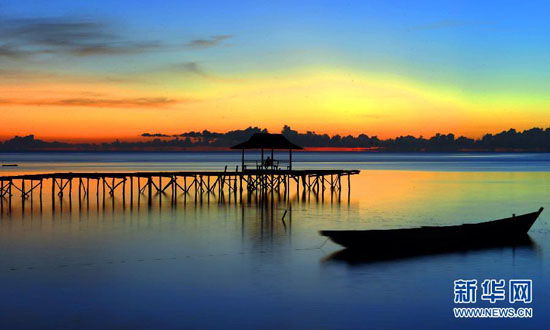 Indonesia (Photo/Xinhua)
Following statements made by Indonesian President Joko Widodo during his visit to Beijing in March 2015, the Indonesian Government, on 9 June 2015, has launched a free-visa policy for tourists visiting Indonesia from 30 (thirty) countries, including the People's Republic of China.
Chinese nationals visiting Indonesia may now enter and exit Indonesia using the free-visa scheme through the assigned 9 (nine) immigration inspection counters at the following entry and exit points:
1. Soekarno Hatta International Airport, Jakarta
2. Ngurah Rai International Airport, Denpasar, Bali
3. Kuala Namu International Airport, Medan, North Sumatera
4. Juanda International Airport, Surabaya, East Java
5. Hang Nadim International Airport, Batam, Riau Islands
6. Sri Bintan Pura Ferry Terminal, Bintan Island, Riau Islands
7. Batam Center International Ferry Terminal, Batam Island, Riau Islands
8. Sekupang International Ferry Terminal, Batam Island, Riau Islands
9. Tanjung Uban Ferry Terminal, Bintan Island, Riau Islands
Chinese nationals entering Indonesia using the abovementioned free-visa scheme are allowed to stay in Indonesia for a total of 30 (thirty) days, and only for tourism purposes. Upon entering Indonesia, their passports will be stamped with "Bebas Visa Kunjungan Singkat Tourism Hanya Untuk Tujuan Wisata" (Free Visa Short Term for Tourism Purposes Only).
The visa-free scheme cannot be extended beyond 30 (thirty) days. Nor can it be converted to other types of visas or residential permits in Indonesia.
Chinese nationals intending to stay longer than 30 (thirty) days or visiting Indonesia for purposes other than tourism are advised to obtain a visa through Indonesian representative offices in Beijing, Shanghai, Guangzhou, and Hong Kong.
In addition to Chinese nationals, this new visa-free scheme is also extended to citizens from: Austria, Bahrain, Belgium, Canada, Czech Republic, Denmark, Finland, France, Germany, Russia, Republic of Korea, Hungary, Italy, Japan, Kuwait, Mexico, The Netherlands, New Zealand, Norway, Oman, Poland, Qatar, South Africa, Spain, Sweden, Switzerland, United Arab Emirates, United Kingdom, and United States of America.