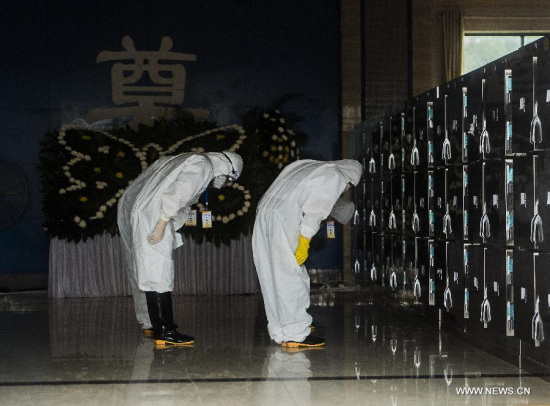 Encoffiners bow to the victims of the capsized ship accident before the body make-up at the funeral parlour in Jianli, central China's Hubei Province, June 9, 2015. Local encoffiners held encoffination ceremonies Tuesday for victims of the capsized ship Eastern Star, which was carrying 456 people onboard on an 11-day trip along the Yangtze River when it was overturned by a tornado on June 1 in Jianli. (Xinhua/Xiao Yijiu)
No more bodies were found on Tuesday as the Eastern Star search and rescue mission on the Yangtze River continued, according to the Ministry of Transport.[Special coverage]
Rescuers are searching an area of 22,500 square meters surrounding the site of last week's fatal incident.
Three suspicious targets had been located, identified and removed by divers as of 1:00 p.m., according to the ministry's report.
"I found nothing except stones," said Wang Bibi, one of the six divers.
With 434 bodies recovered, eight people remain missing.
The search and rescue headquarters on Monday said it would move the ship as soon as weather and water conditions are favorable.