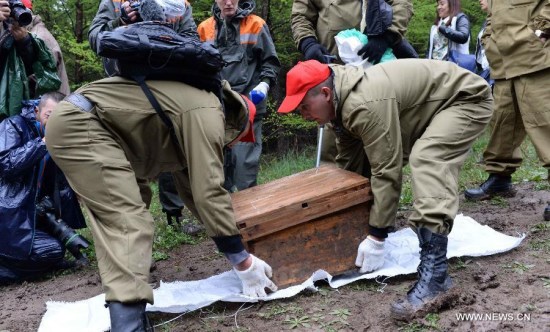 Russian team members carry a box containing the remains of four Soviet Union soldiers down the Huoshao Mountain in Muling City, northeast China's Heilongjiang Province, May 12, 2015. (Photo: Xinhua/Wang Kai)
Chinese and Russian researchers have discovered the remains of at least three Soviet Union soldiers who died in China fighting Japanese invaders following a joint search that ended on Tuesday.
During the nearly month-long operation, the search team combed through a 32-square-kilometer area around Huoshao Mountain in Muling City, in northeast China's Heilongjiang province, according to Sergei Orlov, head of the team's Russian members.
More than 400 Soviet Union soldiers died in a battle against Japanese troops around the mountain in August 1945.
In addition to the remains, the team also found items belonging to Soviet Union troops, such as steel helmets and ammunition, Orlov said.
The biggest challenge for the team was the transformation of the landscape over the past seven decades, he said.
In August 2012, farmer Liu Guanglin found four bodies that were later confirmed to be Soviet Union soldiers.
The newly-discovered remains are expected to be buried at a cemetery for the Soviet Union soldiers in Mudanjing City, which administers Muling, according to Peng Xudong, vice director of the foreign affairs office of Mudanjiang.