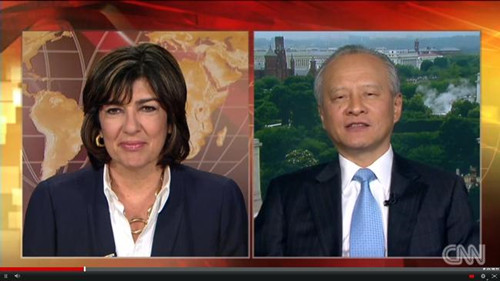 The interview of Chinese Ambassador to the US Cui Tiankai (Right) with CNN's Christiane Amanpour.
On June 4, 2015, Chinese Ambassador to the U.S. Cui Tiankai had an interview with CNN's Christiane Amanpour.
The following is the edited transcript of the interview:
AMANPOUR: Why is it, Mr. Ambassador, that China feels the need to change the status quo with building this enormous amount of territory, dredging and building in the South China Sea?
CUI: Well, first of all, I have to point out what China is doing there is fully within the scope of our sovereignty. So there is nothing for others to get worried. Besides, this is not an issue and should not be an issue between China and the United States because the United States has no territorial claims in the region.
AMANPOUR: You say it's within your territorial sovereign rights. But you are changing the status quo. You are building something out of nothing. Vice President Biden has called it a major rupture, a rift, a fault line.
CUI: I think that the fact is the status quo has been changed by others for a long, long time. So what we are doing is to sort of restore the status quo as it should be. So there is no reason for others to make such accusations against China. What we are doing is to -- just to build facilities that will mainly help ships of China and other countries. Of course we have some defense facilities there but it's only for defense.
AMANPOUR: Well, let me ask you, because obviously there have been military reconnaissance. There have been planes that have gone to try to see what's going on. And of course as you know, CNN was on one of them recently and had to turn back when they were challenged by Chinese authorities.You know, this is a very tense situation. Is China considering putting up an air defense zone around that part of the South China Sea?
CUI: Well, I hope CNN would also show to the people what others have done for a long, long time in the region. That would be more factual presentation. And besides, what we are doing is, as I said, mainly for civilian purposes. So there is really no need for others to send so many military reconnaissance planes to the region. And this is really, against the letter and the spirit of the Convention of the Law of the sea.
AMANPOUR: Ambassador, do you foresee China putting up an air exclusion zone around that part of the South China Sea, as has happened in the East China Sea?
CUI: The United States was the first country in the world to set up such zones. And there are now over 20 countries who have already set up such zones. So China certainly has a right to do the same. But whether we will do it or not will be based on our assessment of the situation and we will certainly do it with caution.
AMANPOUR: I do hear what you're saying and those words you use are, I assume, calculated to try to lower the temperature. And the United States appears to be trying to lower the temperature as well, asking all its allies and friends in the region, everybody, to stop building in the sea. But a newspaper with ties to the government has said the following -- and I'd love to get your reaction to this. Basically, "If the United States' bottom line is that China has to halt its activities, then a U.S.-China war is inevitable in the South China Sea." Really, Ambassador, a war?
CUI: Well, first of all, I wish the U.S. would really do something to lower the temperature, to reduce the tensions there. So I hope people in the U.S. will refrain from making all the coercive statements, will refrain from making all the coercive actions there. Besides, I don't think that we should allow this single issue to dominate our bilateral agenda. So I don't think that we should go to confrontation and conflicts just over this issue.
AMANPOUR: Well, obviously everybody hopes that this particular crisis will see the temperature lowered.
AMANPOUR: Let me ask you about an area of cooperation that's very obvious and important and that is on the issue of climate change. Now China, which is now the world's biggest polluter, has promised to cap emissions and to do all sorts of important things by the year 2030, I think it is. How seriously is the Chinese government taking its commitment to tackle this really important problem? And we do always see these dreadful smog days in China, of course.
CUI: I really believe that what we have in common far outweighs what we differ from each other. And we should not allow our differences overshadow our common interests and growing need for cooperation. And climate change would be a good example for cooperation. We made a good statement last November during President Obama's visit to China and I'm sure we'll continue to make progress and we will do more to respond to climate change together with other countries.