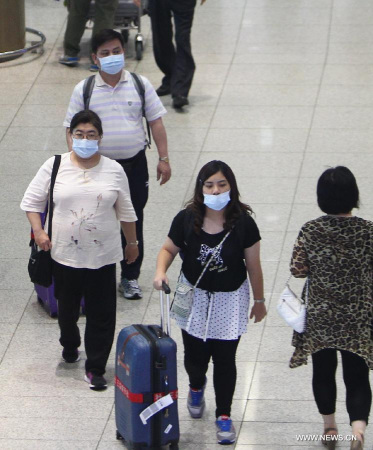 Passengers wearing masks leave Incheon International Airport in Incheon, South Korea, on May 30, 2015. (Xinhua/Yao Qilin)
Hundreds of Chinese people have canceled their travel plan to South Korea, where two deaths and tertiary infections with the deadly Middle East Respiratory Syndrome (MERS) were identified Tuesday.
Read more: First two MERS deaths reported in S.Korea
South Korea's top travel agency Hana Tour was quoted by Yonhap News Agency as saying that about 300 Chinese people dropped their travel plan to the country amid growing fears over the MERS spread.
The second-biggest travel agency Mode Tour hasn't finished yet the calculation of the number of Chinese tourists who canceled travel plans, indicating the number would rise further.
As of Tuesday, the total number of South Koreans diagnosed with the viral disease surged to 25 as six more cases were identified. It was the third-highest number in the world except Saudi Arabia and United Arab Emirates (UAE).
Among the new cases were two tertiary infections, raising fears over an exponential increase in contagion.
Two infectees passed away on Monday and Tuesday each, marking the first deaths since May 20 when the patient zero was tested positive for the viral disease.
The MERS is a respiratory illness caused by a new type of corona-virus that is similar to the virus causing Severe Acute Respiratory Syndrome (SARS). There is no vaccine or treatment for the disease, with its fatality rate reaching 40.7 percent.
The first case was spotted in Saudi Arabia in 2012. The World Health Organization has reported more than 1,000 cases of MERS globally and more than 400 deaths.