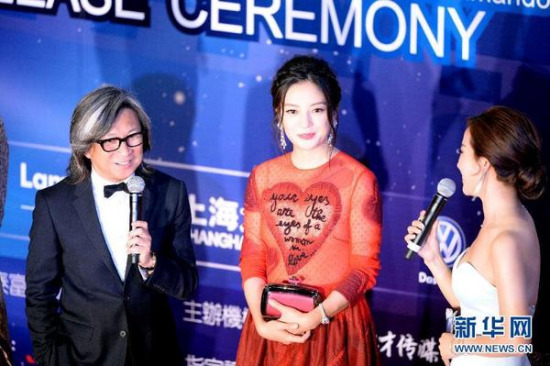 Chinese actress Zhao Wei (center) and director Peter Chan at the 16th Huading Awards in Hong Kong on May 31. (Photo/Xinhua)
Peter Chan's child-trafficking epic Dearest, based on a true story of a father's quest for his trafficked son, was the biggest winner at the 16th Huading Awards in Hong Kong on May 31, taking home the honors for best filmPretty boy gets ugly for new film role , best director and best actress.
Chinese heroine Zhao Wei won the award for best actress for the second time, after winning the same title at Hong Kong Film Awards in mid-April. Taiwan-based actor Mark Zhao was awarded best actor for action film White and Black Episode 2, and American actor Adrien Brody won best supporting actor for Dragon Blade.
Second time winner
Hong Kong seems a good fit for actress and director Zhao Wei.
On April 19, Zhao was awarded best actress for her role as a mother who raised trafficked children in Dearest. A month and a half later, she won the title again, at the 16th Huading Awards.
"I would like to thank the committee for presenting me this award. I also want to thank director Peter Chan for his bold creativity. I would have never imagined that I could play a role like this, the female protagonist of a story based on real events," said Zhao.
Zhao also expressed gratitude for the crew of the film. "For a film to be excellent, everybody working on it must also be excellent," said Zhao.
After making her directorial debut with So Young in 2013, Zhao has been riding on high tides, taking home prizes from many prestigious awards in China, whilst showing her entrepreneurship through purchasing wine chateaus and investing in film production companies. With all the success and recognitions in her hands, Zhao still disagrees with the title Internet users often call her by - "a winner in life".
"Nobody knows how hard I work! I've been so busy these years that I've sacrificed too much time with my family. They say I am 'a winner in life', but I really am not. Life is never static. There are no such things as winners."
An exception made
The best actor award went to Taiwan-based actor Mark Zhao for White and Black Episode 2. Huading has always held the tradition of handing out awards only to those who attend the award ceremony. The unspoken "rule" was broken once to singer Yao Beina, who had passed away due to reoccurrence of breast cancer prior to the 15th Huading Awards. This is the second time an exception was made, as the committee handed out the best actor award to Zhao, who could not physically be there to receive the honor due to rib injuries.
"Please forgive me for not collecting the award myself. I want to thank director Cai Yuexun for making an innovative and bold action film, and giving me opportunities to play Wu Yingxiong," said the actor in a video acceptance speech.
Big winners of the night
Blockbuster Dearest was no doubt the biggest winner of the night.
"We had an amazing time making this film, because we had the best partners in every position, and excellent actors like Zhao Wei, Tong Dawei and Huang Bo to play out the characters. I regard myself very lucky to have had the chance to work with them. But more importantly, I have to thank the audiences. Without their support, I could never gather enough confidence to film more and better films," said Chan during his acceptance.
Dragon Blade, starring China's kung fu superstar Jackie Chan, was awarded for best guidance provided to an action film.
"The 'JC stunt team' (referring to filmmakers and actor who work with Jackie Chan) has gone through 40 year and nurtured seven generations of action stars. We hope the 'JC stunt team' can continue to make better films in the future," said a representative who collected the award.
Adrien Brody, who has worked with Chinese filmmakers several times including director Feng Xiaogang in 1942, was awarded best supporting actor for his role as a prince in ancient Rome in Dragon Blade.
The Huading Awards, established in 2007, recognizes excellence in showbiz based on surveys.