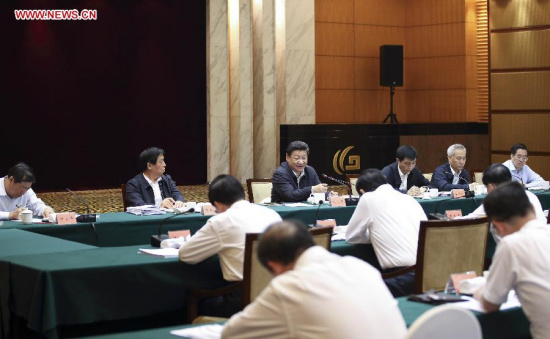 Chinese President Xi Jinping (3rd L, back), also general secretary of the Communist Party of China (CPC) Central Committee and chairman of the Central Military Commission, speaks during a meeting on the 13th five-year plan period (2016-2020) with leading officials from seven regions in east China: Shanghai, Anhui, Fujian, Jiangsu, Jiangxi, Shandong and Zhejiang in Hangzhou, capital of east China's Zhejiang Province, May 27, 2015. (Xinhua/Lan Hongguang)
Chinese President Xi Jinping on Wednesday said the 13th five-year plan period (2016-2020) will be crucial, and governments at all levels should foresee the major trends and plan economic and social development well.
Xi made the remarks when meeting with leading officials from seven regions in east China: Shanghai, Anhui, Fujian, Jiangsu, Jiangxi, Shandong and Zhejiang.
This is the last year of the 12th five-year plan and the central government is currently considering policy for the 13th plan.
The world economic environment is still complicated with interwoven opportunities and challenges, while both the times and the trends are favorable for China, there are still key strategic opportunities for China's development, Xi said.
China's development prospects are broad, but the country is facing many difficulties and challenges, as well as a tough restructuring of the economy, transformation of growth modes and the need to boost innovation, he said.
While mapping the 13th five-year plan period, governments should face risks and challenges soberly, with better evaluation of difficulties and complexities, the president said.
During the period, breakthroughs should maintain economic growth, transform the growth mode, optimize industrial structure, promote innovation, step up agricultural modernization, reform institutional mechanisms, boost coordinated growth, strengthen ecological progresses, safeguard people's living quality and improve support for the poor, Xi stressed.
With the changing growth mode and improving quality and efficiency at the center, the economy will be driven by consumption, investment and exports instead of only by investment and exports. China will shift from relying on secondary industries alone to reliance on the primary, secondary and tertiary industries, turning away from resource consumption and toward technological progress through innovation, he said.
Industrial structure is key to economic competitiveness. Traditional sectors should be transformed efficiently. Informatization and industrialization should be integrated, he said.
Among industrialization, informatization, urbanization and agricultural modernization, the weakest link is agriculture. More needs to be done to transform agricultural development and speed up agricultural technology innovation, Xi said.
Reform is the ultimate power to cultivate and release market energy and boost sustainable and healthy growth of the economy and society, he said.
Coordinated regional growth and green development must be carried out fully. People's quality of life is the be-all and end-all of economic growth and more should be done to tackle problems in education, employment, incomes, social security, health care and food safety, the president stressed.
Xi was on an inspection tour from Monday to Wednesday in Zhejiang, where he was Party chief from 2002 to 2007.