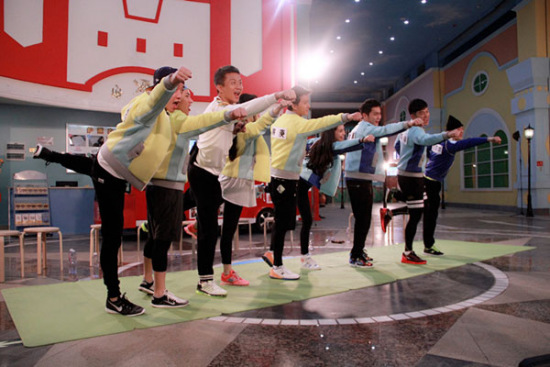 Celebrities from Running Man Season Two (Photo/Xinhua)
When "Internet plus" infiltrates every industry in China what is the future for traditional TV? Facing an increasing flow of talent away from the traditional small screen and declining audiences, the call for a comprehensive merger of traditional and new media grows louder.
TV industry bitten by the Internet
"Taobao.com happened when the traditional market met the Internet. Online transaction platforms such as Alipay appear when banks meet the Internet. When traditional TV plus the Internet happens, we enter into an 'extensive media' era," Xia Chen'an, former director of Zhejiang TV, told the Communication University of China in Beijing.
Xia left Zhejiang TV earlier this year and is now director of China Internet Video Reach Center in the Communication University of China having worked in the industry for more than 20 years. As a renowned TV chief editor and director he created a series of popular TV shows, such as The Voice of China and Running Man that have been broadcast on Zhejiang TV. His departure shook the confidence of the traditional TV industry and made people rethink its future.
"The advancement of technology has established the foundation of an 'extensive media era' and people's lives are fragmented, which will redefine the future trend of media. Internet videos will definitely increase in popularity and the Internet will offer a platform for new program models." Xia said.
Apart from an increasing flow of talent away from traditional TV, the industry is facing a constant decline.
According to statistics, the average viewing rate of television in the US has fallen by 50 percent since 2002. In China, annual average time spent watching TV dropped from 179 minutes in 2003 to 165 minutes in 2013.
Notable is that time spent viewing TV by those aged above 60 has climbed, which means television is losing its young audience.
Another headache for the industry is the shrinking advertising market, which is threatening the survival of many local stations.
"The decline of TV advertisements initially appeared last year while ads on new media increased by 30 percent. Advertisers are increasingly turning to the Internet which generates a pressure on the TV industry," said Peng Kan, director of research and consulting service of Legend Media.