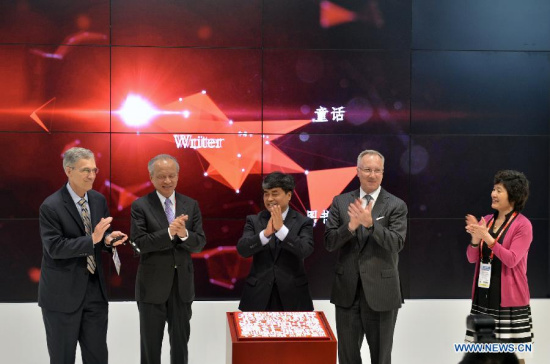 Guests from China and U.S. attend the opening ceremony of China-Guest of Honor 2015 BookExpo America's Global Market Forum in New York, the United States, on May 27, 2015.(Xinhua/Wang Lei)
Bringing in nearly 10,000 book titles from some 150 publishers, China came under the spotlight in this "publishing and cultural capital of the world" as BookExpo America (BEA) 2015 kicked off in New York City's Javits Center Wednesday.
Banners and posters promoting China-themed books and Chinese authors, an overcrowded opening ceremony with simple speeches yet huge media coverage, girls in ancient costumes showing art of tea or calligraphy ... Everything in and outside of the China Pavilion at the expo venue suggests a strong and proud presence of an emerging publishing power invited for the first time as the guest of honor for the BEA Global Market Forum.
It was only the third time, after 2009 in Frankfurt, Germany, and 2012 in London, Britain, that China had become the guest of honor at a top-notch book trade fair held in any major Western countries, noted Wu Shangzhi, vice minister of China's State Administration of Press, Publication, Radio, Film and Television, while addressing the hour-long ceremony on Wednesday morning.
It is also the largest ever exchange between publishing professionals of both countries since China and the United States established diplomatic ties in 1979, he added.
"We hope the three-day event could enhance bilateral cooperation in the area of publishing and translation, and add impetus to bilateral relations and people-to-people exchange and friendship," said Wu, who is heading a large Chinese delegation with nearly 500 members.
"Congratulations to Book Expo America and to their Global Market Forum Guest of Honor, the People's Republic of China," wrote Dr. Henry Kissinger, former U.S. secretary of state, in a congratulatory message read out at the opening ceremony.
"The exchange of books has been an important contributing element" to the development of U.S.-China relations as well as the "extraordinary interaction" between the two countries, said the 92- year-old veteran diplomat, calling China's guest of honor status " an important symbol" of the deepening of mutual understanding and scope of common purposes.
Occupying an area of up to some 2,300 square meters, the China Pavilion hosts a broad array of Chinese publications about politics, economy, history, art and culture, and even ethnic minority heritage. Novels by Nobel Laureate Mo Yan and science fiction master Liu Cixin are also on the shelves. But only some 2, 000 of them are available in English, delegation sources told Xinhua.
Translation is an issue that hampers the import of Chinese books into the American market, said representatives from American publishing companies.
Paul Mytovich, sales and marketing manager of CN Times Books, said in an interview with Xinhua that translated versions of books about Chinese national affairs are popular, but the publishing market for Chinese literature in America is comparatively bleak.
To translate those Chinese literature into proper English is a formidable mission, said Mytovich.
Kristin McDonough, director of the New York Public Library of Science, Industry and Business Library, echoed Mytovich, saying there is a scarcity of translated versions of Chinese literature.
According to McDonough, though books about Chinese business and economy are popular, Chinese literature books are in scarce supply in her library.
"I really look forward to more Chinese literature books," said McDonough. "Reading (books about China) obviously can't replace the real experience of traveling there. But it is an effective substitute."
Among the various displays and cultural exhibits, the three-day event also features a special display that showcases translation of Chinese and American classic works of literature, education and philosophy.
The China program "is certain to become a highlight of this year's convention," said Tom Allen, president and CEO of the Association of American Publishers.
"American publishers look forward to three days of professional conversations with our Chinese counterparts," Allen told the Chinese guests at the ceremony. "There are great possibilities for cooperation between our countries. We look forward to a fruitful exchange of ideas."