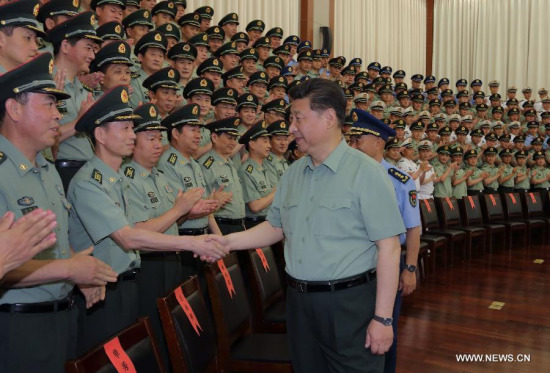 Chinese President Xi Jinping, also general secretary of the Communist Party of China (CPC) Central Committee and chairman of the Central Military Commission, meets with senior officers of Zhejiang Military Area Command during an inspection tour in east China's Zhejiang Province, May 26, 2015. (Xinhua/Li Gang)
Chinese President Xi Jinping has urged the army to hone combat abilities and eradicate corruption as key measures to upgrade the country's military.
Xi, also chairman of the Central Military Commission (CMC), made the remarks Tuesday while meeting troops stationed in east China's Zhejiang Province.
Between 2002 and 2007, Xi held various posts in Zhejiang.
While visiting the provincial military area command, Xi recalled that he frequently visited local troops when he held the positions of secretary of the Party Committee of the Zhejiang Provincial Military Area Command and director of the Zhejiang Provincial National Defense Mobilization Committee.
Xi praised the troops' contributions to ensuring national security and boosting local economic and social development, acknowledging their efforts in building the military and combat preparedness training.
Stressing military spirit and talent, Xi urged the army to track and guide troops' ideological thinking and teach them to obey the command of the Communist Party of China.
Xi urged more combat training to hone the troops' abilities to fulfil tasks and maintain readiness to fight.
Xi called for meticulous implementation of an ongoing education campaign that promotes the "three stricts and three earnests," referring to "being strict in morals, power and self-discipline," along with "being earnest in decisions, business and behavior."
Xi urged a firm hand in punishing and eliminating corruption among grassroots soldiers and officers.