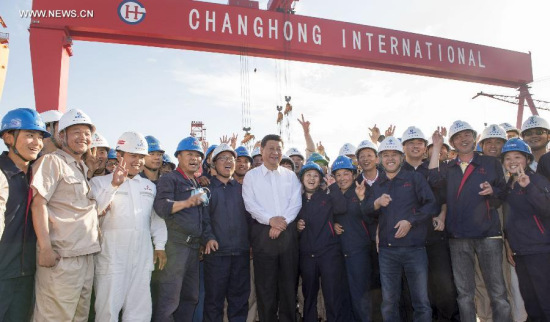 Chinese President Xi Jinping poses for photos with workers of Changhong international ship building and repairing co. ltd. in east China's Zhejiang Province, May 25, 2015. Xi had an inspection tour in Zhejiang Province from May 25 to 27. (Xinhua/Xie Huanchi)
Chinese President Xi Jinping has highlighted the role of reform in China's adjustment to the "new normal," saying reform is the recipe for boosting development and China should maintain its "strategic focus."
Xi, also general secretary of the Communist Party of China Central Committee and chairman of the Central Military Commission, made the remarks during an inspection tour from Monday to Wednesday in Zhejiang, where he was party chief of the province from 2002 to 2007.
"Our understanding and practice of the new normal have just begun," said Xi, adding efforts must be spent on solutions to adapt to the new normal, aimed at safer and higher-quality growth. "There is always a path out, and the path is lying at our feet," said Xi.
He noted that China must unleash economic potential through reform and urged party cadres at all levels to enhance their research efforts in finding solutions.
Xi also expressed hope that Zhejiang, one of China's richest provinces, can advance in building a "moderately prosperous society," stay one step ahead in reform, opening up and socialist modernization, and continue to play an exemplary role.
Acknowledging what Zhejiang has achieved over the years, Xi said building a good society should start with safeguarding and improving people's livelihood. "We must do what the masses want us to do," he said.
Xi said that legal education of party cadres should be strengthened and problems arising in various fields should be handled in accordance with law. "We should support the masses using the law and enable them to stick loyally to the law, abide by the law and defend the law."
The general secretary re-emphasized strictly governing the Party, saying targeted measures should be taken to address officials' problems.
During his visit, the president also gave a tour to Aoshan State Strategic Oil Reserve Base, where he urged the base to strengthen management, improve the ability to detect safety issues and respond to emergencies to ensure the security of oil reserves.
At Changhong international ship building and repairing co. ltd. on Zhoushan Island, Xi spoke highly of the company's achievements in ship building, repairing and recycling, ocean engineering, and secondhand ship trading.
"As long as an enterprise has an eye for the market and a good ability of allocating production factors including capital, technology and manpower, it can catch up from behind in the fiercest competition," he said.
Xi encouraged the ship firm to improve its core competitiveness and make more contributions to the domestic ocean engineering manufacturing industry.
At Zhejiang, known for its private sector and innovative industries, Xi urged Chinese enterprises to spend more on innovative research, become more market-oriented in innovation and make the most from talent.
"As long as we can make the most of talented people and give full play to innovation, China's development will have a promising future and the great rejuvenation of the Chinese nation will be soon," Xi said.
During his visit, Xi also urged the army to hone combat abilities and eradicate corruption as key measures to upgrade the country's military when he met troops stationed in the province.
Xi recalled that he frequently visited local troops when he held the positions of secretary of the Party Committee of the Zhejiang Provincial Military Area Command and director of the Zhejiang Provincial National Defense Mobilization Committee.
Xi praised the troops' contributions to ensuring national security and boosting local economic and social development, acknowledging their efforts in building the military and combat preparedness training.
Stressing military spirit and talent, Xi urged the army to track and guide troops' ideological thinking and teach them to obey the command of the Communist Party of China.
Xi urged more combat training to hone the troops' abilities to fulfil tasks and maintain readiness to fight.
Xi called for meticulous implementation of an ongoing education campaign that promotes the "three stricts and three earnests," referring to "being strict in morals, power and self-discipline," along with "being earnest in decisions, business and behavior."
Xi urged a firm hand in punishing and eliminating corruption among grassroots soldiers and officers.