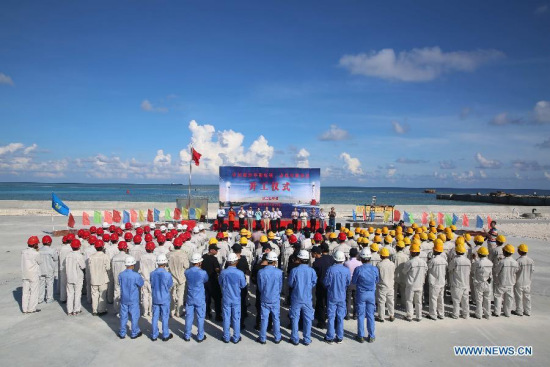 A groundbreaking ceremony for the construction of the lighthouses is held on Huayang Reef of China's Nansha Islands, May 26, 2015. (Photo: Xinhua/Lu Rui)
China will continue building on the islands and reefs in the South China Sea to serve vessels passing through the waters, a foreign ministry representative said on Tuesday.
The Ministry of Transport on Tuesday began construction of two lighthouses on Huayang and Chigua reefs in the Nansha Islands. The two 50-meter lighthouses, with lanterns of 4.5 meters in diameter, are designed to have a light range of 22 nautical miles.
China must fulfill international obligations on maritime search and rescue, disaster prevention and mitigation, marine research, meteorological observation, environmental protection, navigation security and fishery production, Foreign Ministry spokeswoman Hua Chunying told a daily news briefing.
The South China Sea is on an important shipping route and a major fishing ground. A large number of fishing vessels operate in this area all year round, which has led to many maritime traffic accidents. The lighthouses will "immensely improve the navigation safety" in the area.
"The Chinese side will continue to build other civil facilities on some Nansha islands and reefs to serve the vessels passing through the area," said the spokeswoman.
When asked to comment on Philippine Defence Minister Voltaire Gazmin's remarks, Hua said she could feel the "restlessness and rashness" of some people in the Philippines in the recent days. Gazmin said earlier that he would meet U.S. Defense Secretary Ash Carter on Wednesday in Hawaii to ask for a stronger commitment to help "because right now we are being oppressed".
On Monday, Philippine President Benigno Aquino said China should not "bully a smaller country" because it would hurt its image as it tries to create goodwill with its trading partners.
"China will not bully a smaller country and the smaller country should stop making endless trouble out of nothing," said Hua.
"We hope the Philippine side will stop making mischief and come back to resolving problems through negotiation and consultation," she added.