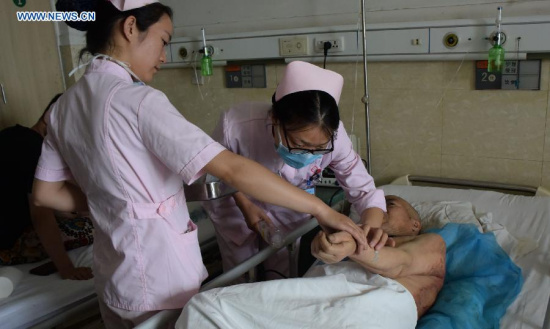 An elder receives treatment at a hospital in Lushan County of Pingdingshan City, central China's Henan Province, May 26, 2015. Thirty-eight people were killed and six others injured in a fire at a rest home in Lushan on Monday night. (Xinhua/Zhao Peng)
A deadly fire at a senior care facility that claimed the lives of 38 elders in central China highlights the challenges faced by the country's growing aged population.
The private licensed nursing home, a simple steel structure which provided basic rooms for the elderly, caught fire on Monday night in Henan Province, the country's most populated.
The tragedy is a sore reminder that care and services for the elders still far lag behind.
China's senior population is growing rapidly. At the end of 2014, the number of Chinese aged 60 and above reached 212 million, or 15.5 percent of the country's total population. The number is expected to continue increasing by around 10 million per year.
The unbalanced rural-urban development makes the situation even worse for senior citizens living in villages. Urbanization has attracted more young people to towns and cities, leaving their old parents and children in their rural homes. Most of the rural regions lack care facilities for the elders.
The shortage is also common in cities. There are simply not enough beds when the urbanites become too old to support themselves.
Some have no other choice but to live in poorly equipped nursing facilities, such as the fire-devastated one in Lushan County, Henan, for the rest of their life.
Monday's blaze was a much needed reminder of this often-neglected segment of society -- unfortunately it came at the expense of 38 lives.
The incident also shows authorities must not let their attention to the safety loopholes of places such as nursing homes and hospitals be distracted while seeking economic growth.
It is also cause for both the government and the society as a whole to reflect on how to do more to improve the life of elders.
Officials should always keep in mind safety administration, with more effective inspection techniques needed to avoid similar tragedies in the future.
This is, sadly, not the first reminder.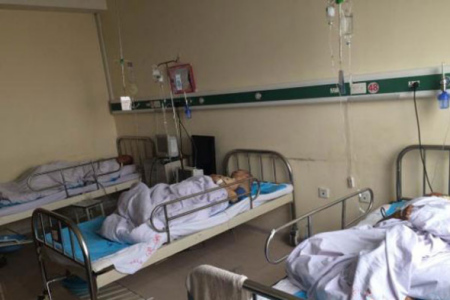 A man has been arrested on suspicion of cutting off the testicles of three inpatients at a nursing home in northeast China's Heilongjiang province.