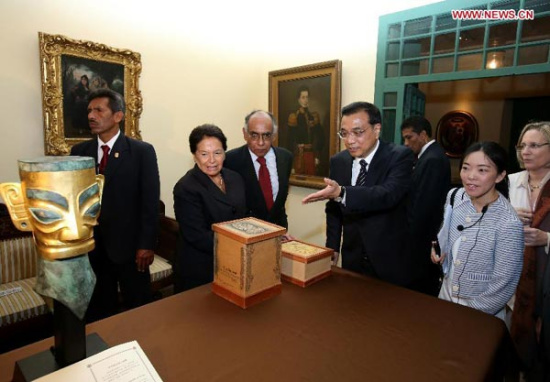 Premier Li Keqiang presents a gold mask replica from the Sanxingdui Ruins to Peru to encourage closer cultural exchange, May 23, 2015. (Photo/Xinhua)
In a light moment during his official visit to Peru, Premier Li Keqiang visited Peru's National Museum of Archaeology and Anthropology in Lima on Saturday while attending a series of cultural activities about mutual learning between the two countries.[Special coverage]
During the museum visit, Li toured the exhibition on the origins of Chavin culture, Inca culture and Chinese civilization. He highlighted the cultural importance of the two countries through the centuries, and spoke of the benefits of future cultural exchange between the two countries.
"China has millet, and Peru has corn and potato. Those crops have been planted all over the world and are feeding people of different countries," he said. "The agricultural civilizations of Peru and China have contributed to the development of human kind."
As a gift, Li presented a gold mask replica from the Sanxingdui Ruins in China's Sichuan province to the museum. He added that, the Sanxingdui mask, which shows the high level of bronze civilization 3,000 years ago, should act as a key to propel people-to-people exchanges between the two nations.
He said that there were similarities between Sanxingdui and Chavin culture, a fact proving that human civilizations, in essence, were interlinked with common ground.
The Sanxingdui ruins, first discovered in 1929 near Chengdu, date back to 1800 BC. The site rose to fame when two sacrificing pits dating back to the Shang dynasty (16-11th centuries BC) were discovered along with thousands of precious cultural relics unearthed in 1986, which astonished the world.
It was one of the most important archaeological finds of the 20th century, not only in China but all over the world. Sanxingdui is hailed as the "Ninth Wonder of the World" by historians, yet much about the historical site remains a mystery.