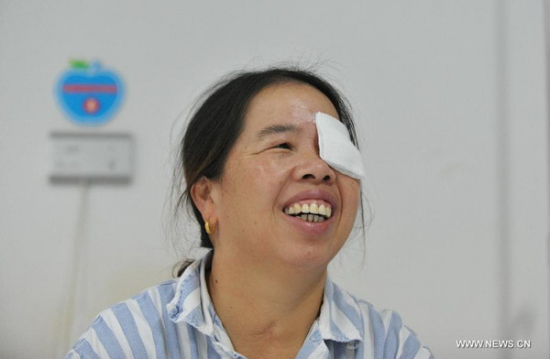 Patient Qiu Baozhu is about to discharge from hospital after receiving the cornea transplant operation at the Xiamen Eye Center of Xiamen University in Xiamen, Southeast China's Fujian province, Nov 27, 2014. (Photo/Xinhua)
In a move expected to benefit millions of patients suffering from corneal blindness, the world's first artificial bioengineering cornea created and developed domestically by China went into production on May 23, People's Daily reported.
The cornea, of which China has complete intellectual property right, is the first and the only cornea in the world that has completed clinical trials. It received the license from National Food and Drug Administration in the end of April.
According to the World Health Organization, corneal blindness is one of the major causes of blindness after cataract.
China has more than four million corneal blindness patients and over 100,000 cases are reported annually. Most of the patients can recover their sights through keratoplasty but are forced to wait due to shortage of corneal donors.
The artificial bioengineering cornea is expected to bring light to the Chinese patients and 60 million patients overseas soon.