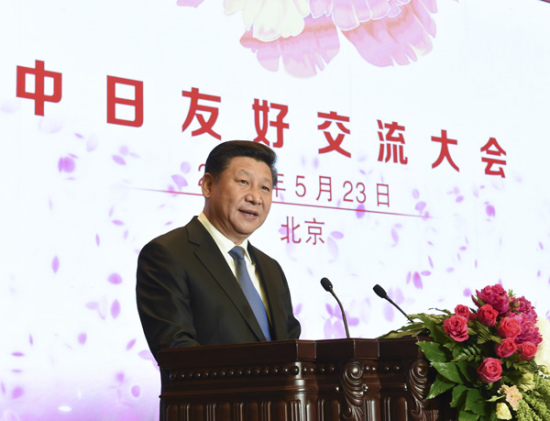 President Xi Jinping gives a speech during the China-Japan friendship exchange meeting at the Great Hall of the People in Beijing, May 23, 2015. (Photo/Xinhua)
At a huge hall full of music, applause and an unusually large Japanese delegation, President Xi Jinping has struck a friendly tone on China-Japan ties, while also warning against any attempt to distort Japan's wartime history.
The visit of the 3,000-member delegation and Xi's appearance at their gathering on Saturday in Beijing marked the latest sign of thawing relations between China and Japan, said observers.
Toshihiro Nikai, head of the delegation and a heavyweight figure from Japan's ruling party, also attended an event to promote northeast Asian tourism in Dalian, Liaoning province, on Sunday.
"China-Japan friendship is rooted in the people, and the future of the bilateral relationship is in the hands of the people of the two countries," Xi said at a meeting at the Great Hall of the People aimed at boosting exchanges.
China attaches great importance to developing the relationship, and it "has not changed this basic policy and will not change it in the future", Xi said.
The delegation, including heads of local governments and enterprises, marks the largest mission between the two countries since Tokyo's illegal purchase of China's Diaoyu Islands in September 2012.
High-level meetings and tourism have picked up recently. But ties have not fully recovered due to lingering rows about territory and history.
This year marks the 70th anniversary of the end of World War II, and the war's victims, including China, will never accept Japanese statements or actions that distort history, said Xi.
His remarks came just a day after China renewed its call for Japan to "face up to" its 20th-century history after Japanese Prime Minister Shinzo Abe's wife visited the controversial Yasukuni shrine.
Nikai, chairman of the Liberal Democratic Party's General Council, said all the delegation members joined voluntarily, showing the importance of people as ambassadors and the traditional ties between the neighbors.
Such exchanges should never be damaged, said Nikai, 76, calling for increasing exchanges between both countries' younger generations.
Nikai delivered a personal letter to Xi from Abe, Japan's Kyodo News said, without giving further details.
Wang Ping, a Japanese studies researcher at the Chinese Academy of Social Sciences, said Beijing is likely to maintain its divided stance to the Japanese people and the administration until Tokyo stops meddling in regional affairs with the United States.
The strained ties risked driving tourists and investors away, a phenomenon that both sides know is unsustainable, she said.
Eiko Sato, who works for the Japan Association of Travel Agents, said tourism plays a key role in enhancing understanding. In 2013, Chinese tourists to Japan dropped by 6.5 percent year-on-year to 1.83 million. The number rebounded to more than 2.4 million last year.
"I was surprised and happy that Xi came to address the meeting, because we would feel we are welcome by the Chinese people and government," said Sato, an organizer of the delegation.