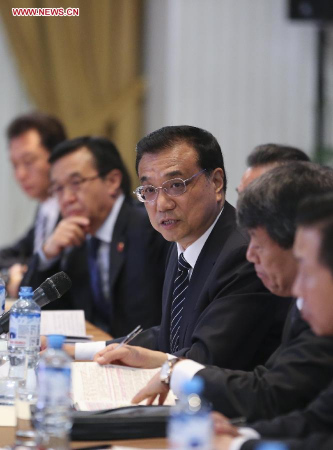 Chinese Premier Li Keqiang (C) speaks during a symposium on Chinese companies in Peru in Lima, capital of Peru, May 23, 2015. (Xinhua/Ding Lin)
Visiting Chinese Premier Li Keqiang encouraged Chinese-funded enterprises Saturday to push forward the transformation and upgrading of China-Peru economic and trade relations through production capacity cooperation.
Chairing a discussion with over 50 representatives from Chinese-funded enterprises in Peru, the premier inquired about business operations, development plans, staff composition, and difficulties of those enterprises in operation, as well as local demand and market conditions while sending greetings from their homeland.
Li urged the enterprises to contribute to China's export of production capacity and equipment manufacturing to Peru, which will not only promote Peru's economic development, but will also promote China's export and industrial upgrading.
Meanwhile, Li stressed Chinese-funded enterprises should take social responsibilities in running their businesses overseas, consider local interests, stick to the green development path, create more jobs and maintain a harmonious relationship with local employees and communities.
He also encouraged the enterprises to support each other in expanding overseas operations, saying companies in mining and equipment manufacturing should coordinate with financial institutions to achieve common development. According to Li, the Chinese government will strengthen communication and coordination with the Peruvian side to create better conditions for business operation by Chinese-funded enterprises.
When having live video chats with workers on construction sites, Li told those who work at plateau areas to take good care of themselves and asked the employers to offer better living and working conditions.
Li arrived here Friday for an official visit to Peru, a Latin American country which has a free trade pact with China and wishes to diversify its economic cooperation with China.
Peru is the third leg of Li's four-nation tour to Latin America after Brazil and Colombia. He will also visit Chile afterward.