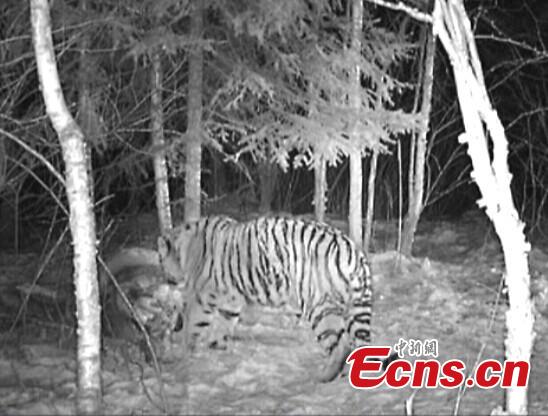 A robust adult wild Siberian tiger eats a dead horse near a stable in Ning'an, Heilongjiang province.(Photo provided by Heilongjiang forest industry bureau)
The population of once-endangered wild Siberian tigers has achieved recovery growth in northeast China over the past decade, research has found.
Approximately 28 Siberian tigers and 42 Amur leopards have been spotted in the forests in northeast China's Jilin Province, according to a decade-long survey by the Jilin Provincial Forestry Department and Beijing Normal University unveiled in March.
Whereas, a 1998 project by U.S. and Russian scientists showed there were only six to nine Siberian tigers and three to seven Amur leopards in the area.
The country's crackdown on poaching and recent wild animal protection measures have contributed to the growth, said Lang Jianmin, director of the scientific research and publicity center of the Hunchun National Siberian Tiger Nature Reserve in Jilin.
But the increase of wild animal populations has also caused damage to the local people's interests. To solve the problem, the Jilin provincial government has rolled out a series of measures to compensate for personal injuries or property damage.
"We got compensation from the government after our cornfield was damaged by wild boars. Other villagers were compensated after their cattle was killed by tigers. We appreciate the policy," said Zhang Jincheng, a villager from Chunhua Town, Hunchun City.
As an increasing number of wild Siberian tigers roam the China-Russia border, experts have suggested a cross-border nature reserves to provide a favorable environment for the tiger migration.
The barbed wire on the border should be removed and a state-level Siberian tiger nature reserve should be jointly built by China and Russia so that the tiger population would continue to grow, said Jiang Guangshun, deputy director of the feline animal research center under the State Forestry Administration.
Siberian tigers, also known as Amur or Manchurian tigers, mainly live in east Russia, northeast China and northern parts of the Korean Peninsula. Less than 500 Siberian tigers are believed to survive in the wild, with an estimated 18 to 22 in Heilongjiang and Jilin. The world population of Amur leopard is less than 60, and most of them live in Russia. The species has been on the verge of extinction in northeast China as a result of poaching and deforestation.