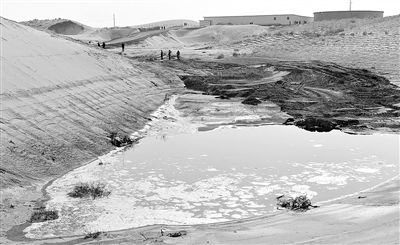 The undated photo shows one pit containing waste liquid in the Tengger Desert. The waste water was secretively transferred to the Tengger Desert by entreprises. (Photo/ce.cn)
Four officials from local environmental protection authorities are under investigation for dereliction of duty that caused heavy pollution to the Tengger Desert in northwest China, according to the Supreme People's Procuratorate (SPP) Friday.
Several companies in Gansu, Inner Mongolia and Ningxia, which border the desert, were found to have illegally dumped industrial waste in the desert since 2007.
The companies were shut down and put under investigation last September. Earlier media reports said the contamination threatened groundwater in the area.
Central prosecution authorities and environmental watchdogs also found local officials' involvement and malpractices during their investigation, according to the SPP.
Lin Xingshu, chief of a local environmental protection bureau, along with other three officials are being probed for supervision misfeasance and power abuse which left the pollution unchecked for years.
The SPP vows crackdown on the "protective umbrellas" behind the polluters and severe punishments for officials' negligence and malpractices in environmental damage.
Mingsheng Dye Chemical Co., a chemical factory in northwest China's Ningxia Hui Autonomous Region, was fined 5 million yuan (about 817,580 U.S. dollars) for dumping untreated waste in the Tengger Desert, while its legal representative Lian, was given an 18 month sentence with a two-year reprieve.
The revised Environmental Protection Law, which came into effect in January, brought with it heavier punishments.