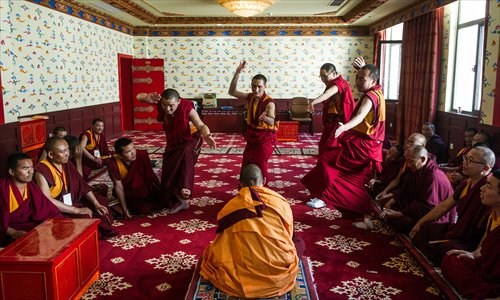 During a graduate exam for Nyingma sect lamas, a Tho Ram Pa program student (sitting in the center) of the High-level Tibetan Buddhism College of China is challenged by four Buddhist scripture debaters invited by the college from other temples to test the candidate. (Photo: GT/Li Hao)
A graduation ceremony was held at China's top educational institution for Tibetan Buddhism on Wednesday in downtown Beijing. Dozens of monks were awarded with advanced and intermediate academic titles. Meanwhile, several government-funded Tibetan Buddhism colleges are under construction in areas with significant ethnic Tibetan populations. The government strives to draw more monks to study in the colleges, so as to cultivate qualified Tibetan Buddhists who are highly educated and politically reliable.
Last week, loud clapping was frequently heard coming from several of the halls of Xihuang Temple in Beijing. One by one, dozens of candidates were being challenged by Buddhist scripture debaters, a vital step in their quest to attain top academic awards.
The High-level Tibetan Buddhism College of China (HTBCC), a top government-run educational institution that was established in 1987, is located in a temple Qing Dynasty (1644-1911) Emperor Shunzhi built in 1652 for the fifth Dalai Lama.
The college aims to cultivate patriotic and highly-qualified religious teachers. In May, its students, either tulkus (Living Buddhas who are believed to be reincarnations of religious figures of the past) or eminent monks, face their final examinations.
On May 20, after days debating doctrines and defending their thesis, 11 graduates were awarded with Tho Ram Pa, an academic rank equal to a doctoral degree, and 28 were awarded with Chi Ram Pa, equivalent to a master's degree.
The college established the academic ranking system in 2004 and started enrolling students for its three-year Tho Ram Pa program and two-year Chi Ram Pa program. Last year, it doubled its student admission quota for the Tho Ram Pa program to 26.
Tho Ram Pa means "advanced learned sage" in the Tibetan language.
Fierce competition
HTBCC is the only institution that issues the highest officially-recognized academic rank of Tho Ram Pa. So far, a total of 121 monks have been awarded the title.
The college is unusual as it isn't open to the public and the students can't leave without permission.
But it covers all the students' living costs, even any medical treatment they may require and transportation fees for their vacations back home. Each year they have a three-month summer vacation.
Every class has a head teacher who is in charge of managing the students' daily lives, offering them guidance and recording their attendance.
The school's rules are strict. Last year, three students were expelled for missing classes, according to Luosang Jinmei, an official from the student affairs department.
But just as it is hard to be accepted by top universities like Tsinghua and Peking University, becoming an HTBCC student is not easy.
The applicants must already be a licensed tulku or monk, be willing to pledge their support to the leadership of the Communist Party of China, profess their love of the socialist system, promise to safeguard national unity and oppose separatism.
These requirements are checked by their local governments, which then decide whether to approve their application.
After being recommended, then they can apply to take the entrance examinations organized by the college, which are composed of scripture debates, written tests on constitutional law and Tibetan language exams.
Gatuo Texiu, a Tho Ram Pa student from Long'en Temple in Gande county in Qinghai Province, said when he applied, more than 20 monks joined the entrance examinations in Gansu and only the top two were enrolled.
"I won first place," Gatuo Texiu said.
Patriotic education
According to the HTBCC's teaching schedule, 60 percent of class hours are spent on Buddhist teachings.
The others are used for general education, such as learning about China's legal system, socialism with Chinese characteristics, China's history, as well as the Chinese language and computer skills.
"We never force the students to be patriotic. It's a process that aims to influence them unconsciously by having them feel and see by themselves," Luosang Jinmei said.
According to the student handbook, the college's task is to cultivate and build a reserve of Tibetan Buddhists who are "politically reliable, educated and venerable."