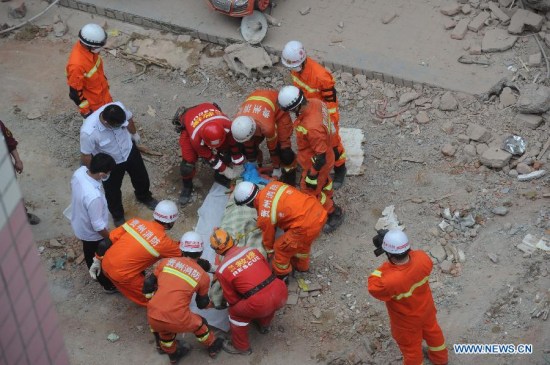 Rescuers transfer a victim's body in Guiyang, capital of southwest China's Guizhou Province, May 21, 2015. Five bodies were found in the rubble of a collapsed building in central Guiyang Thursday. The accident happened on Wednesday, when the nine-story building with 114 residents living in it fell down. (Xinhua/Ou Dongqu)
Rescuers retrieved three more bodies from the rubble of a collapsed apartment building in southwestern Chinese city Guiyang, bringing the total death toll to eight, while another eight people remain missing.
A nine-story apartment building collapsed at 11:30 a.m. Wednesday in Guiyang, capital of southwest China's Guizhou Province. A total of 98 were confirmed safe as of Wednesday evening. Another 16 couldn't be reached, but mobile phone signals of 15 of them were detected at the scene.
More than 100 rescuers have been combing the debris with sniffer dogs and life detectors since the accident happened. Fourteen trapped people were pulled out from the debris soon after, including two seniors and a four-month baby.
According to Li Shiyong, head of firefighting team, there's still a chance to find survivors in the debris within the first 72 hours.
However the rainy weather might cause landslides and will make the rescue work more difficult, Li said.
Guiyang has been soaked by rain in the past several days. A rain-triggered landslide is believed to have caused the tragedy, said the Guiyang city government.