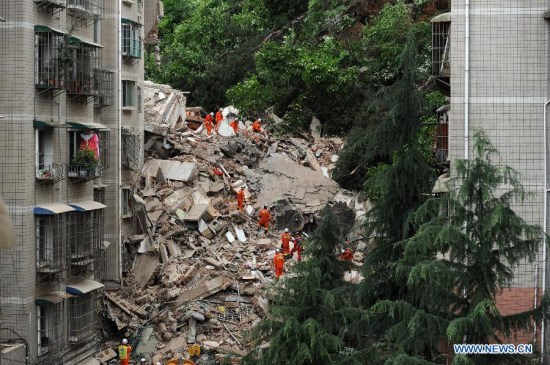 Rescuers search for survivors at a residential building collapse site in Guiyang, capital of southwest China's Guizhou Province, May 20, 2015. A nine-storey building collapsed in Guiyang on Wednesday. Rescuers have confirmed that there are people trapped inside, but casualties are not known yet. (Xinhua/Tao Liang)
A body was found in the rubble of a collapsed building in Guiyang, capital city of southwest China's Guizhou province early Thursday morning, local authorities confirmed.
The body was pulled out at 2:30 a.m. from the debris of a 35-household apartment building. The victim, a 41-year-old man surnamed Chen, was pronounced dead at the scene, according to the Guiyang city government.
The accident happened at 11:30 a.m. Wednesday, when the nine-story building in central Guiyang with 114 residents living in it fell down. A total of 98 were confirmed safe as of Wednesday evening. Another 16couldn't be reached, but mobile phone signals of 15 of them were detected at the scene.
Chen lived on the seventh floor.
Rescuers are combing the debris with sniffer dogs and life detectors to find the missing. Residents of nearby buildings were evacuated after the accident.
Guiyang has been soaked by rain in the past several days. A rain-triggered landslide is believed to have caused the tragedy, said the Guiyang city government.