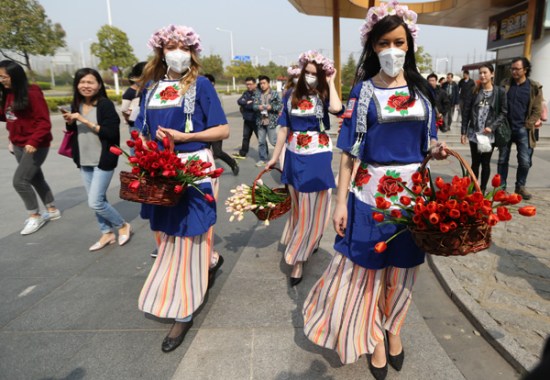 Performers hand out tulips to passersby in an attempt to improve public awareness about environmental protection in Nanjing, Jiangsu province, in March. (Yang Bo/China News Service)
The public submitted 1,463 pollution reports through the 12369 telephone hotline last year, and most were related to air pollution, the Ministry of Environmental Protection said on Tuesday.
Five provinces in central and eastern regions - Henan, Shandong, Jiangsu, Hubei and Guangdong accounted for the highest number of reports, with 43 percent of the total nationwide.
Henan province ranked No 1, the ministry reported.
Nearly 78 percent of the pollution complaints were confirmed and addressed, according to the annual report on the environmental hotline released on Tuesday.
Polluting companies were given deadlines to rectify problems in 465 cases and environmental protection bureaus shut down polluters in 133 cases.
The public was encouraged to report pollution through the hotline in an effort to improve the supervision and control of health hazards.
Air pollution remained the most common complaint, as it has for years, the ministry said, followed by water and noise pollution.
The chemical industry, at 28 percent, received the most phone complaints. Companies in two industries - metal smelting and processing, and nonmetallic minerals - received the next highest number of complaints last year. These industries have occupied the top three spots for years, the annual report said.
The number of public complaints made through the hotline may be a result of sharp contradictions between economic growth and environmental protection, and central and eastern regions have stronger economies, said Qin Tianbao, an environmental professor at Wuhan University in Hubei province.
Improved public awareness of environmental protection in these regions may be another major reason, he said.
Guo Yongqi, from the environmental group Green Activities in Jinan, Shandong province, said, "The hotline has been a useful tool against pollution."
He said the group has used the hotline many times to report to the environmental protection authorities in Shandong, and some polluting companies have been punished, once within a day.
The environmental hotline became better known after Chai Jing, a former TV anchor mentioned it in her environmental documentary Under the Dome, which was watched by millions in March.
In the weekend after the documentary was released, the hotline in Beijing received more than 1,400 calls, an increase of 240 percent from the previous weekend.
To encourage more public participation in the supervision of pollution, the ministry has set up several pilot cities this year to launch the hotline on instant messaging service platforms such as WeChat.