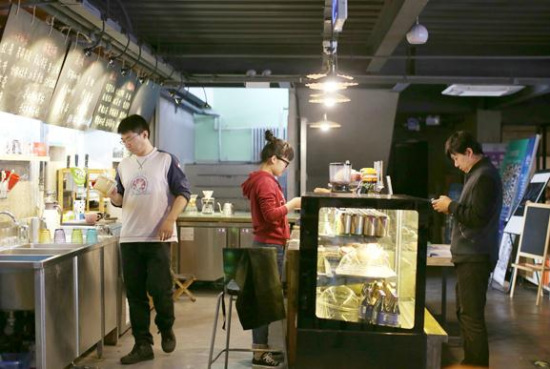 Students and teachers from Beijing University of Posts and Telecommunications have set up a cafe near the campus that has attracted crowds of young entrepreneurs. (Wang Jing/China Daily)
Adjustments are to be made to the higher education system to encourage innovation and entrepreneurship among college students.
More than 30 measures will be introduced by the Ministry of Education to support students starting their own businesses, and for innovation in scientific and academic research.
The measures are outlined in a series of guidelines released recently by the State Council.
They include developing and opening compulsory and selective courses for students, and awarding them credits for taking the courses.
Establishing innovation and entrepreneurship records, with transcripts for students; encouraging teachers to guide students in innovation and starting up businesses; and providing them with funds and supporting them to take part in entrepreneurship contests are also on the list.
Zhang Daliang, director of the ministry's Higher Education Department, said the measures cover aspects of higher education from teaching and courses to extracurricular activities and internships.
"One goal is to set up an education system featuring innovation and entrepreneurship by 2020, which will focus on nurturing students' innovative and entrepreneurial spirit, sense and ability," Zhang said.
The ministry has been advocating that college students start their own businesses since Premier Li Keqiang announced the concept last year.
The ministry issued a notice in December requiring colleges and universities to allocate a flexible period of schooling allowing students to suspend their studies temporarily to pursue business ideas.
The guidelines and measures announced recently mark the first time the ministry has tried to design a comprehensive system to support students' innovation and entrepreneurship.
Jing Degang, deputy director of the ministry's Department of College Student Affairs, said universities will have considerable autonomy in deciding specific issues, such as the courses on innovation and entrepreneurship that will be opened and the number of credits awarded to students.
Tsinghua University, one of China's top universities, has taken a lead in this respect.
Yang Bin, its vice-president and provost, said the university plans to start a series of courses to introduce the basic concepts, theories and knowledge about innovation and entrepreneurship to students.
He said it is also proposing to gather academics and industries to support students' innovative efforts and to start their own businesses.
"Our proposal ... has received a positive response from more than 130 universities across the country," he said.