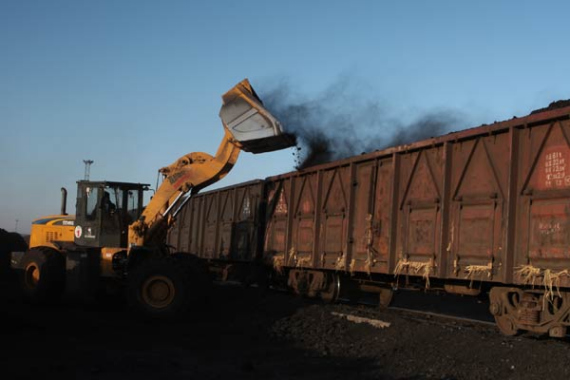 Coal is loaded for railway transportation in Tongliao, Inner Mongolia autonomous region. (Photo/Xinhua)
Shanxi has begun to relocate more than a thousand villages affected by underground coal-mining, as the mining activities have undermined the stability of the coal-bearing regions, making them dangerous to live in, reported Xinhua on Sunday.
1,352 villages will be repaired and renovated from now to 2017. The villages contain 218,000 households consisting of 655,000 villagers.
Shanxi, a province well-known for its coal-mining industry, has hollowed out over 5,000 square kilometers of land, or about three percent of the land of the province, which puts life above the ground at potential risk of collapse.
The province has produced 100 billion tons of raw coal in total as a crucial source of energy for China's economic development since China's reform and opening-up in the 1970s.
The massive coal-mining projects have also undermined the eco-system in Shanxi. Thousands of houses collapsed, underground water was compromised and farmland has been ruined.
According to a villager, residents have to hire vehicles to carry water from places ten kilometers away for daily use.
Many people have already moved while only elderly villagers who are unable to stay in the sunken houses with cracks in the walls.
Ma Fuquan, of the Bureau of Land and Resources of Zuotu County in Shanxi, expressed concern that the government has a massive job relocating the villagers, and also creating jobs for them in their new places of residence.