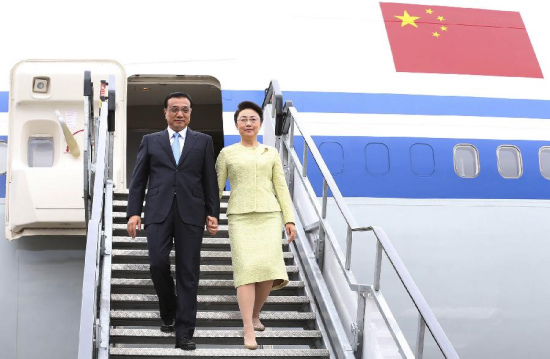 Chinese Premier Li Keqiang (L) and his wife, Prof. Cheng Hong disembark when arriving at the airport of Shannon, Ireland, May 17, 2015. Irish Finance Minister Michael Noonan, Chinese Ambassador Xu Jianguo came to welcome Li and his wife at the airport. Li arrived here Sunday for a transit visit to Ireland before heading to Latin America for an official visit to Brazil. (Xinhua/Huang Jingwen)
Chinese Premier Li Keqiang arrived in Ireland Sunday for a transit visit to Ireland before heading for a four-nation tour to Latin America.[Special coverage]
During his stopover in the European country, Li is scheduled to hold talks with his Irish counterpart, Enda Kenny, on bilateral ties and cooperation.
The two countries are expected to sign an agreement on boosting agricultural cooperation and a deal on mutual visa exemption for holders of diplomatic and service passports.
Upon his arrival, Li and his wife, Prof. Cheng Hong, walked down the ramp hand in hand, and were greeted by Irish Finance Minister Michael Noonan, Chinese Ambassador Xu Jianguo and others.
Li spoke highly of the profound traditional friendship between China and Ireland, noting that bilateral relations and practical cooperation in various fields have entered a new stage since the two countries established a strategic partnership for mutual benefit in 2012.
"I hope my transit visit can further deepen political mutual trust, expand practical cooperation and strengthen people-to-people exchanges between China and Ireland so as to further improve bilateral ties and bring closer the two peoples," said the Chinese premier.
Li is scheduled to leave for Latin America on Monday for an official visit to Brazil, Columbia, Peru and Chile, his first to the region since he assumed premiership in 2013.