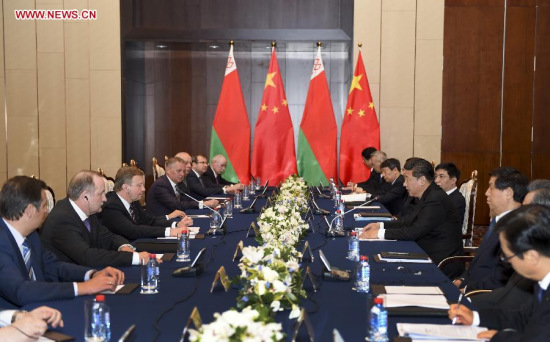 Chinese President Xi Jinping (4th R) meets with Belarusian Prime Minister Andrei Kobyakov (3rd L) in Minsk, capital of Belarus, May 11, 2015. Xi arrived here Sunday for a three-day state visit to Belarus, the first by a Chinese head of state in 14 years.(Xinhua/Xie Huanchi)
Chinese and Belarusian leaders agreed on Monday to further boost bilateral practical cooperation, particularly the joint building of an industrial park near Minsk, the largest cooperation project between the two countries. [Special coverage]
China and Belarus have witnessed rapid development of their relations and expanded the depth and breadth of practical cooperation, visiting Chinese President Xi Jinping said during a meeting with Belarusian Prime Minister Andrei Kobyakov.
"The China-Belarus Industrial Park is a new exploration in the practical cooperation between the two countries. It is also a symbolic project in the building of the Silk Road Economic Belt," he said.
"We hope the two sides consult with each other on what kind of businesses can enter the park, make a long-term plan and take the park as a center to build internationally competitive industries," added the Chinese president.
The China-Belarus Industrial Park is being built on the outskirts of Minsk under an agreement signed by the two countries in September 2011. A joint development company was unveiled in August 2012 and a ground-breaking ceremony was held on June 19, 2014.
The industrial park, covering 91.5 square km, will focus on developing electronics, biomedicine, fine chemistry, high-end manufacturing, logistics storage and other industries.
The two countries have agreed to build the park into a model project in the construction of the China-proposed Silk Road Economic Belt, which connects Asia with Europe.
Echoing Xi's remarks, Kobyakov said that Belarus has paid special and great attention to the construction of the industrial park.
The Belarusian side views the park as a brand of its economic and trade cooperation with China and it welcomes Chinese businesses to invest in the park, Kobyakov said.
During their meeting, Xi noted that the two countries have in recent years witnessed a rapid increase in bilateral trade, which features strong complementarities and still boasts huge potential.
China stands ready to make joint efforts with Belarus to expand trade areas, improve trade structure, boost trade quality and promote trade balance, Xi said.
He urged the two sides to give full play to such mechanisms as the China-Belarus Intergovernmental Committee of Cooperation so as to strengthen overall planning and coordination, specify the priorities and goals of bilateral all-dimensional cooperation under the new circumstances, and boost cooperation at local level.
"We support the two sides in advancing people-to-people exchanges in areas including culture and tourism," Xi said.
The Chinese president also briefed Kobyakov on his "candid, in-depth and fruitful" talks with President Alexander Lukashenko on Sunday.
Xi said he and Lukashenko reached new and important consensuses on deepening the China-Belarus comprehensive strategic partnership and determined the key areas and direction for bilateral cooperation for the coming phase.
Xi added that they also agreed to take the opportunities of jointly building the Silk Road Economic Belt and commemorating the victory of the World Anti-Fascist War to consolidate traditional friendship, increase mutual political support, and carry out all-dimensional practical cooperation as well as closer coordination in regional and international affairs.
He suggested that the two sides effectively implement those important agreements, especially docking their development strategies and speeding up large cooperation projects such as the industrial park, in a bid to boost common development and bring benefits to both peoples.
Pledging that Belarus is a staunch strategic partner of China, Kobyakov said the two countries enjoy huge potential for economic and trade cooperation and Belarus is committed to deepening bilateral practical cooperation with China.
The Belarusian government agrees with China on boosting and optimizing bilateral trade, and is willing to actively explore new financing cooperation channels in order to rev up bilateral economic and trade cooperation, he said.
Belarus supports the Silk Road Economic Belt initiative, Kobyakov said, noting that the grand plan can be aligned with Lukashenko's vision of promoting Eurasian economic integration.
He proposed that the two countries beef up scientific and technological cooperation in such areas as chemical engineering, biology and medicine, explore tourism cooperation, and promote people-to-people and cultural exchanges.
The Chinese president arrived here Sunday for a three-day state visit to Belarus, the last stop of his three-nation tour, which has already taken him to Kazakhstan and Russia.