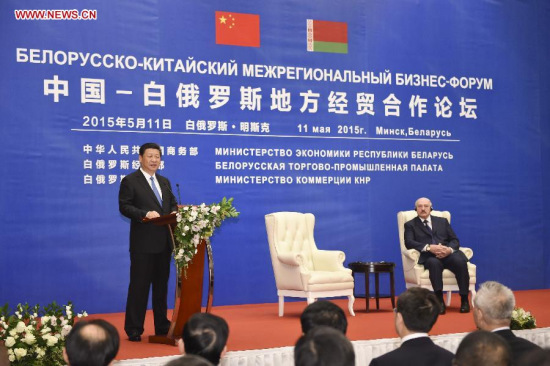 Chinese President Xi Jinping (L) addresses the opening ceremony of a China-Belarus economic and trade forum between local governments of the two countries in Minsk, capital of Belarus, May 11, 2015. Belarusian President Alexander Lukashenko also attended the opening ceremony. Xi arrived here Sunday for a three-day state visit to Belarus, the first by a Chinese head of state in 14 years. (Xinhua/Xie Huanchi)
Chinese President Xi Jinping on Monday called on local-level governments of his country and Belarus to expand cooperation and play a bigger role in consolidating the bilateral comprehensive strategic partnership. [Special coverage]
Speaking at the opening ceremony of a China-Belarus economic and trade forum here, Xi suggested that the two countries give full play to their respective advantages and strengthen cooperation at the sub-national level, which is an important component of their interaction.
"Relevant authorities and local governments of both sides should dovetail their policies, explore new modes of cooperation and map out new projects, thus developing the local-level economic and trade cooperation into a new growth engine for China-Belarus practical cooperation," Xi said.
Xi urged local governments of the two sides to further open up, improve the "hard environment" for investment and mutual cooperation, and build a conducive "soft environment" in line with the principles of compliance with the law, convenience and practical results.
China, Xi said, stands ready to strengthen bilateral cooperation in production capacity and share with Belarus its advanced technology and highly-efficient capacity in such sectors as railway, power, telecommunications and equipment manufacturing.
Welcoming more Belarusian investment in China, Xi urged local governments of the two countries to encourage and support their competitive businesses to move to and operate in the China-Belarus Industrial Park on the outskirts of Minsk, the largest cooperation project between the two sides.
In addition, he called for special attention to both Chinese and Belarusian small- and medium-sized enterprises participating in bilateral local-level cooperation projects, and effective efforts to help them deal with financing and other difficulties.
Highlighting the importance of constantly improving cooperation mechanisms and financing channels, Xi said China is willing to discuss with Belarus the use of such institutions as the Silk Road Fund and the China-Eurasian Economic Cooperation Fund for advancing local-level cooperation.
In recent years, China-Belarus economic and trade cooperation has enjoyed steady and rapid growth, with investment and technological cooperation speeding up notably, Xi said.
"Against the backdrop of a weak global economic recovery, our achievements did not come easily, and they have proved that China-Belarus cooperation enjoys a solid foundation and huge potential," Xi said.
Noting that Belarus, an unavoidable hub in Europe-Asia land transportation, has a unique geographical advantage to jointly build the Silk Road Economic Belt with China, Xi expressed Beijing's willingness to bridge the initiative with Belarus' national development strategies, so as to deepen the all-dimensional and mutually-beneficial cooperation between the two countries and achieve common development.
Belarusian President Alexander Lukashenko, for his part, said that the economic and trade forum demonstrates the high-level development of bilateral relations.
Hailing the close contact and cooperation between the two countries' local governments and businesses as an important part of the Belarus-China comprehensive strategic partnership, Lukashenko said Belarus is willing to continue to provide favorable conditions for foreign investors.
The Belarusian government, he added, hopes that Chinese local governments and businesses will increase investment in Belarus and take the country as an important bridge to explore the European market.
Minsk is grateful for China's support for bilateral local-level cooperation, he said, adding that the seeds that China and Belarus sow today will surely grow into towering trees in the future.
Xi arrived here Sunday for a three-day state visit to Belarus, the first by a Chinese head of state in 14 years. His ongoing three-nation tour has taken him to Kazakhstan and Russia.