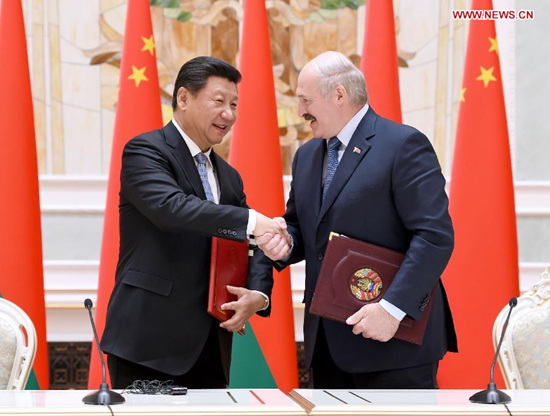 Chinese President Xi Jinping (L) shakes hands with Belarusian President Alexander Lukashenko during the signing of a treaty of friendship and cooperation and a joint statement on deepening cooperation after their talks in Minsk, capital of Belarus, May 10, 2015. Xi arrived here Sunday for a three-day state visit to Belarus, the first by a Chinese head of state in 14 years. (Xinhua/Xie Huanchi)
Chinese President Xi Jinping and his Belarusian counterpart, Alexander Lukashenko, pledged on Sunday to combine strategies of development and boost the comprehensive strategic partnership between their two countries.[Special coverage]
"I hope the two sides will take the opportunity of our meeting to turn the high-level political relationship into more substantial and practical outcomes, and work together to open up a new era for the China-Belarus comprehensive strategic partnership," Xi said as he held talks with the Belarusian president.
Xi arrived in Minsk Sunday morning for a three-day state visit to Belarus, the first by a Chinese head of state in 14 years.
China and Belarus are good friends and good partners that trust and help each other, Xi said, highlighting the smooth development over the past years, especially since the announcement of the partnership in 2013.
During Sunday's talks, Xi proposed the two countries build a community of common interests and common destiny.
China and Belarus should enhance political trust and always support each other's view on development and the path of development, Xi said.
He suggested the two sides should combine their development strategies and work together to build the Silk Road Economic Belt, emphasizing the significance of the China-Belarus Industrial Park.
The Chinese president wanted to make the industrial park a "pearl" on the Belt, or an exemplary project of reciprocal cooperation between the two countries.
He also mentioned the cooperation on trade, housing for low-income families, infrastructure construction, electricity, industrial modernization and financing on a win-win basis.
Xi called for more people-to-people exchanges and closer sub-national government-to-government cooperation.
This year, 100 Belarusian university students will be invited to attend education exchange programs in China, he added.
As this year marks the 70th anniversary of the establishment of the United Nations, Xi said China and Belarus should strengthen coordination in international and regional affairs to safeguard their common interests and to promote a new type of international relations centered on win-win cooperation.
The Chinese president also pointed out that this year marks the 70th anniversary of the victory of both China's War of Resistance against Japanese Aggression and the World Anti-Fascist War. The former war started earlier and lasted longer than the latter, he said.
The Chinese people and Belarusian people made great sacrifices and immense contributions to the victory against fascism and militarism, he said.
"The purpose of our commemorative activities is to recall history, commemorate martyrs, cherish peace and sound a warning for the future," the Chinese president said.
Lukashenko said that it is of great significance for President Xi to pay a state visit to Belarus on the occasion of the 70th anniversary of the victory of the Great Patriotic War.
The Belarusian side values its ties with China, Lukashenko said, noting that his country thanks the Chinese government and people for attaching great importance to the friendly cooperation with Belarus and offer strong support for the country without any political strings attached.