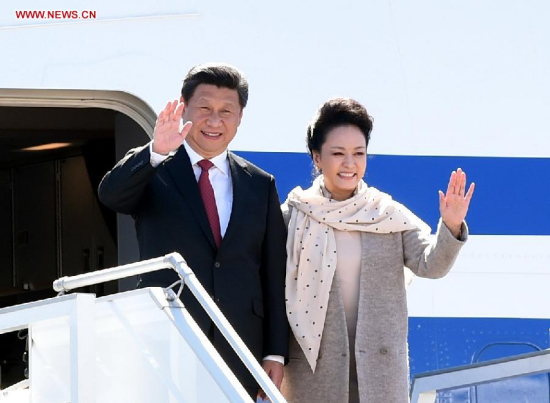 Chinese President Xi Jinping (L) and his wife Peng Liyuan wave to people as they arrive in Minsk, capital of Belarus, May 10, 2015. Xi arrived here Sunday for a three-day state visit to Belarus, the first by a Chinese head of state in 14 years. (Xinhua/Xie Huanchi)
Chinese President Xi Jinping arrived in Minsk Sunday for a three-day state visit to Belarus, the first by a Chinese head of state in 14 years. [Special coverage]
Xi and his wife, Peng Liyuan, were greeted by Belarusian President Alexander Lukashenko at the airport in Minsk.
They were also presented with bread and salt, a Belarusian tradition to show respect and friendship to distinguished guests.
Upon arrival, Xi said that China and Belarus enjoy a long history of friendship.
The two countries have, since forging diplomatic ties, witnessed a steady and healthy development of bilateral relations, a smooth progress of all-dimensional practical cooperation and an ever-deepening friendship between the two peoples, he said.
China is satisfied with the current status of bilateral relations and full of confidence in the future development, Xi said.
"We would like to make joint efforts with Belarus to elevate the comprehensive strategic partnership to a new height," said the Chinese president.
Xi said that he will have an in-depth exchange of views with President Lukashenko and other Belarusian leaders on bilateral ties and other issues of shared concern.
"I will also meet Belarusian WWII veterans to show my respect to them for their contributions to the victory of the World Anti-Fascist War," he said.
"I sincerely wish that my visit can sow seeds of hope for the China-Belarus relations and that the seeds can bear fruits to benefit our two peoples," he added.
During his stay in Minsk, Xi will attend an economic and trade forum between local governments of the two countries and visit the China-Belarus industrial park, the largest cooperation project between the two countries.
Xi and Lukashenko are expected to sign a treaty of friendship and cooperation and issue a joint statement on deepening cooperation.
Government departments and enterprises from the two countries will sign a stack of cooperation documents on economy and trade, customs, education and culture.
China has become Belarus' fifth largest trading partner in the world and the largest in Asia.
Belarus is the last stop of Xi's three-nation tour, which has already taken him to Kazakhstan and Russia.
In Moscow, he attended commemorative events Saturday marking the 70th anniversary of the victory of the Great Patriotic War, Russia's term for WWII.
Before flying to Minsk Sunday, the Russian government held a seeing-off ceremony for Xi at the airport in Moscow, during which Xi inspected the Russian honor guards.